Reg liles was born at Garnant in 1920, his father having moved to the Amman Valley from Treforest, Pontypridd sometime circa 1906. Reg's father, William was living at "Dwalg House", Cowell Rd, Garnant with his 49 year old widowed mother, Ellen in 1911. Living with them were William's brothers; 25 year old Robert and 17 year old Isaac who were both coal miners. William married Reg's mother, Margret Ann Davis in 1916.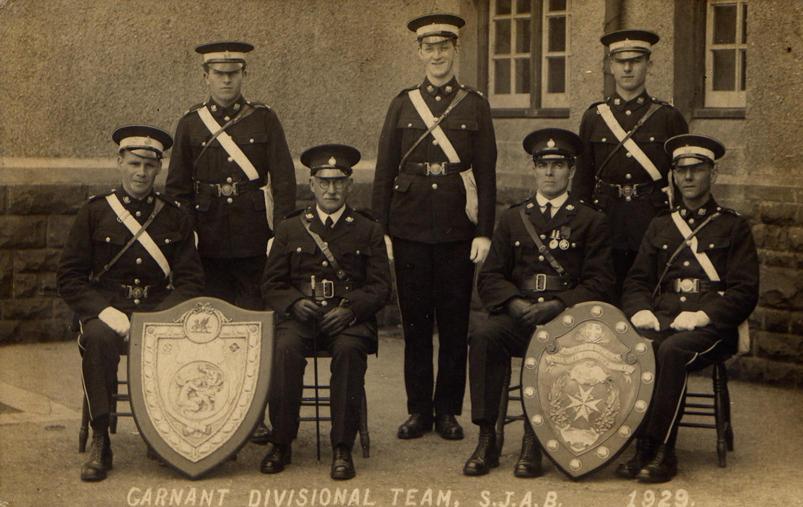 William Liles; Reg's father, (Far Left) with Garnant Division of St John's Ambulance Brigade 1929.
Reg's story in many ways epitomises the fortitude, hardship and courage of local people during that time.
Here is what his son, Gerwyn Liles, tells us about him:
"One hundred years to this day (1920), my father Reg Liles was born; second eldest of twelve children, into a small close-knit mining community in a village called Garnant in the Amman Valley, South Wales.
Born during the great depression of the 1920's, he went to work down the mines at a tender age of 13. Reg was 19 when war broke out and as he was a hard working miner, working some of the best anthracite coal seams in the world, he was regarded as a key worker in this field so was not drafted into the military.
Our Royal Military and Mercantile Marine coal fired ships were needed to defend and feed our nation.
As well as working in the mines, Reg joined the home guard. In August 1941 he married Margaret Evans from Tairgwaith and they remained married for the rest of their lives. They had three sons and a daughter.
In the late 1950's Reg survived a mine disaster but was badly injured saving his butty (friend). After this, he had numerous jobs but the work most people will remember him for in his later life was as a tyre salesman.
I remember him once telling his friend that his biggest achievement in life was ensuring the good education of his three sons so that they didn't have to follow him down the mines.
I think his greatest gift was giving us, his children a wonderful loving childhood and the desire to achieve. Though he had left the mines, the miners life never left him and he died in 1993 still suffering from the miners curse; "pneumoconiosis".
Always in our thoughts."
Regarding Reg's mining accident, Gerwyn explained as follows:
"The accident happened as there was a large white stone within the coal roof which had not been noticed and caused the roof to collapse.Dad's friend was under this stone and Dad managed to lift it enough for the other miner to pull his friend clear but damaged his back in the process. When they came to clear the pit fall, it took 10 men to lift this stone but in sheer terror and adrenaline he must have had tremendous strength even to lift it enough to free his friend."
After the accident, Reg's wife heard the hooter from the colliery and was very concerned but was relieved to hear Reg's motorcycle as he approached his home. He rode right up to the back door and shouted for Gerwyn and his brother to come and help him get off his bike. As soon as they reached him however, they heard ambulancemen shouting not to lift him. The ambulancemen lifted Reg from his motorcycle and placed him on a stretcher before taking him to hospital.
When Reg's wife asked him why he had ridden his motorcycle home, his answer was; "to ensure you knew I was alright."
Gerwyn believes that his father's accident occurred at Ystrad Colliery at Glynmoch. Reg had also worked at the Steer Pit at Tairgwaith in the late 1940's and possibly other mines during his lifetime.