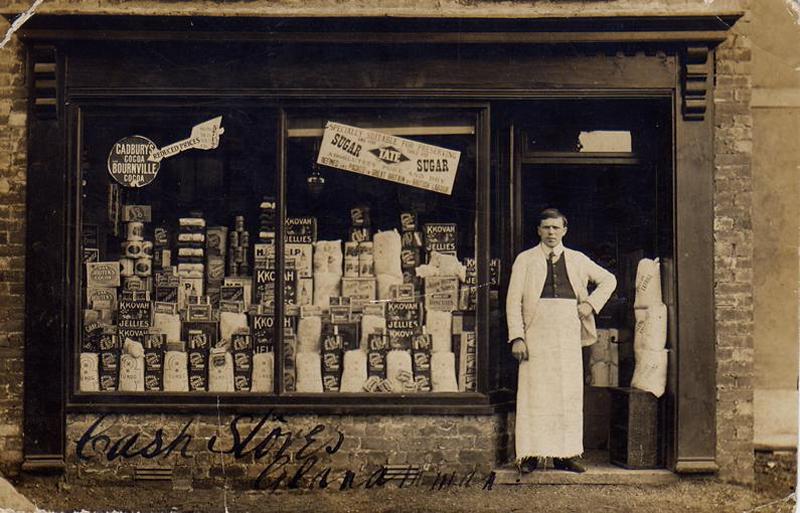 Cash Stores, Glanamman, with the owner G. F. Davies.
The above shop was situated at the Junction of Grenig Road and Cwmamman Road, at the end of a small terrace once known as Grenig Cottages, in Glanamman. The shop was built in 1911 by William Hughes and Son and was reputedly one of the largest grocery shops in Cwmamman.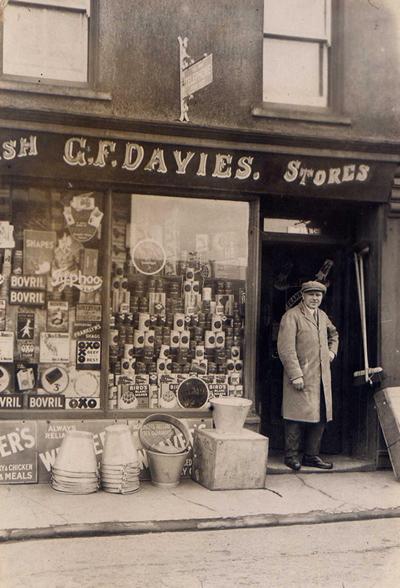 Cash Stores: Later Photograph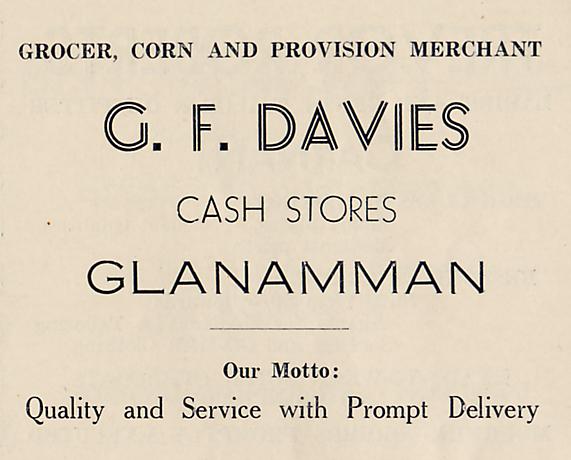 Advertisement for Cash Stores.
The above advert appeared in a souvenir brochure from 1936, printed for the opening of the Amman Valley Hospital. The brochure also names G. F. Davies as Chairman of the Organising Committee for the opening day events.
G. F. Davies was an active member of the community, becoming an elected member of the Cwmamman Council and a deacon at Bethesda Chapel, Glanamman. In 1943, he wrote a booklet to commemorate the 100th anniversary of the chapel. His Christmas spirit was captured by the Amman Valley Chronicle, when it reported that oranges, apples, sweets and books were among the things which G. F. Davies distributed amongst the children of Bethesda on Christmas morning of 1936.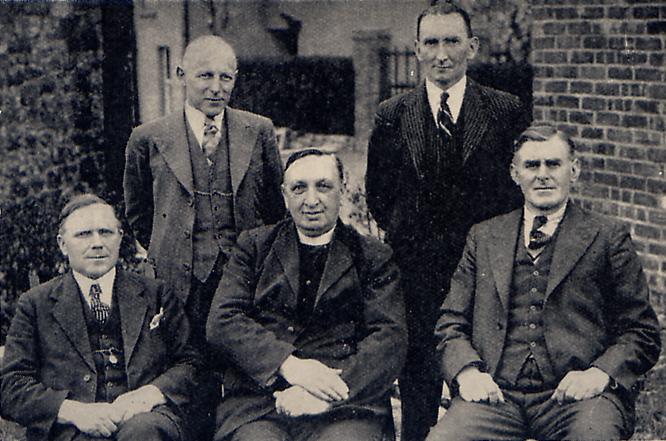 G. F. Davies (front left), with other hospital officials.
When the proprietor, G. F. Davies, retired, Cash Stores was taken over by his nephew, Daniel Davies. He moved his shop to a new location, a few hundred yards along the main road, when the original Cash Stores building was demolished in 1966 to widen Grenig Road and improve safety at the junction.
The newer premises stood out, due to the green corrigated iron sheets which made the roof and lined the outside walls. The landmark was demolished and the new owners of the plot used the land to build a modern bungalow.
An amusing anecdote retold by one of G. F. Davies' former neighbours, tells of his rather agressive cat, which took a dislike to one of the local dogs. Apparently, G. F.'s cat would sit on his boundary wall at Grenig Road and when a particular dog would walk past, the cat would invariably pounce on the poor creature, causing it to take off in a panic.
Much of the above information was taken from an article written by Walter P. Evans for the Amman Valley Historical Society.