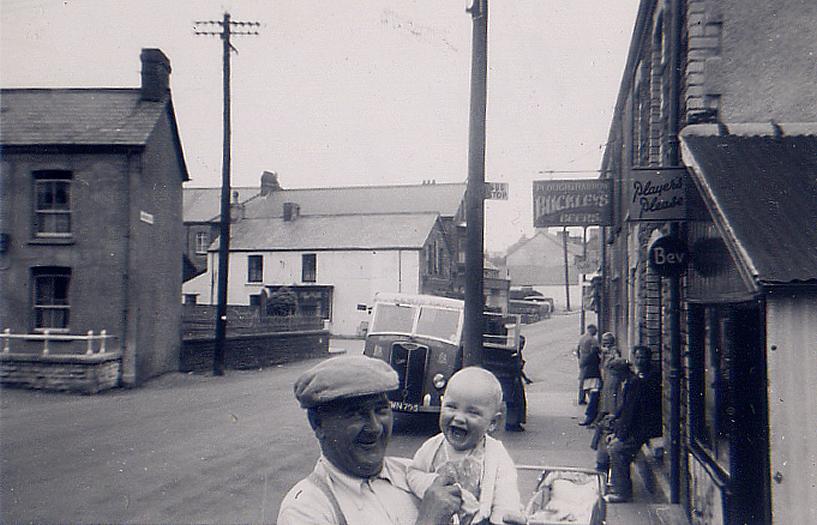 Plough Shop (front right of photograph) and Glanamman Square, 1953
The Plough Shop was run by Miss Margaret Arianwen Griffiths at the time that the above photograph was taken. She was known locally as "Peggy Plough" and took over the shop from her mother, Mrs Elizabeth Griffiths. The shop closed c.1960.
Peggy had a red Ford Capri in the early 1970's and took it to Spain with her when she went on holiday there, accompanied by a cousin.
The gentleman in the photograph is Mr Ednyfed Rees, who was known locally as "Nev". The baby is his grand-daughter, Meryl.
On the same terrace, the Plough and Harrow pub can also be seen and opposite, Corner House which was once a shop with its own sweet and pop factory. At one time, it had a bowling alley and was owned by David Walters. It has long since been demolished and the site where the house stood is now the location of an electric transformer and local recycling point.
In the centre of the photograph is the local bakery, which was situated on High Street. This was once owned by the Roberts family.
On the main road, next to the bakery, was Carpanini's Criterion Shop. Mr Luigi Carpanini was the original Italian proprietor of the ice cream parlour and the 28th December, 1933 edition of the Amman Valley Chronicle, contained an article about his son Mr Albert Carpanini. The article outlined Alberts popularity and philanthropic ways as well as his participation with local sporting clubs and charitable causes. He was leaving Glanamman, having set himself up in business at Bilston, Staffordshire. The article ended by highlighting Albert's hearty sayings such as "Hello Brawd" (Hello Brother) and "Dim i gal" (none to be had), which he delivered in a jolly manner.
Thanks to Mrs Rosa Rees for the photograph and to Meryl Rees (shown in photograph with her grandfather) for the information. Thanks also to the South Wales Guardian for allowing me to use information from the Amman Valley Chronicle.