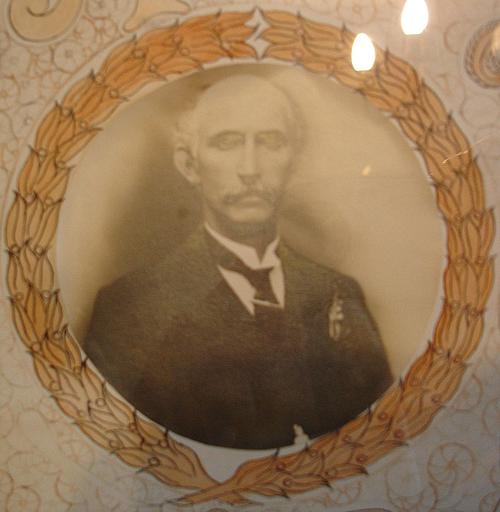 Ceidrim, whose real name was Edwin Rees, was the well known and much loved bard and wit who entertained the people of Cwmamman with his eloquent and often humerous verses in both Welsh and English. He was known locally as a poet, composer of harp verses and organiser of charity and patriotic functions, especially during the Great War. Ceidrim won many eisteddfod prizes for his poetry and was a winner of prime bardic honours at Rhyl National Eisteddfod. He also composed many odes and sonnets for special occasions. Aswell as his agility with words, he was known for his acrobatic abilities. He could leap over the railway gates and was able to walk on his hands.
He was born in 1871 at Park Street, Lower Brynamman and became a taylor by trade, as did his father and grandfather before him. Edwin Rees also worked at the Gellyceidrim Colliery at Glanamman, until he had to retire through ill health. His workplace was probably where he found his bardic name; "Ceidrim".
In 1881, Ceidrim was ten years old and living with his parents; Philip and Eleanor Rees at Ynysdomlid Cottage, which may have been on Station Rd at Glanamman. He also had three younger siblings; Gwilym aged 8, Megan aged 4 and Dewi aged 1.
A decade later, the family had relocated to Commercial Place, which was on the main road, near to Glanamman Square. Ceidrim was by then 18 years old and working as a tailor. He also had two more siblings; Catherine aged 8 and Anthony aged 5. Ceidrim's brother, Gwylim was a tinplate worker and their sister, Megan was a pupil teacher at an elementary school.
In 1901, census information shows that the family were at the same address and that Ceidrim was still employed as a tailor, working at home for his father who was self employed. His sister Megan was an assistant schoolmistress and his brother Dewi worked at home as a self employed hairdresser. The youngest brother; Anthony, had found employment as a tinplate worker. The whole household were bilingual.
Ceidrim married Mary Thomas in 1907 and they had five children; two sons and three daughters.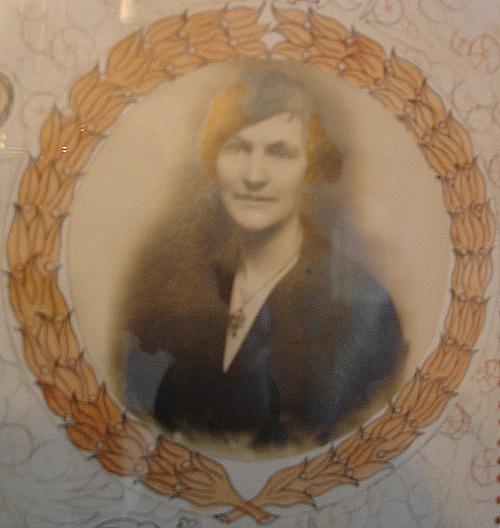 Ceidrim's wife, Mary
In February of 1922, the Amman Valley Chronicle reported that there was a call to form a tangible recognition of the "great and valuable services of Ceidrim, the National bard." A strong and influencial executive committee had been elected, which consisted of John Phillips the postmaster (chairman), J. Enoch James, M.E. (vice-chairman), David Thomas the ironmonger (treasurer) and Mr F. W. Gunning (hon secretary). A salutation was presented to Ceidrim on Saturday the 30th of June,1923 on what the Amman Valley Chronicle called "One of the most Cymric meetings we have had the privilege to attend".
A fine program of events was arranged for the occasion, which took place at Brynseion chapel, Glanamman. It was the first time that as many as four harps had been brought together in the Amman Valley to entertain a local audience and these were harmonised by some of the leading players of the valleys; George Thomas of Betws, Tom Bevan of Glanamman, Joe ap Morgan of Gwaun Cae Gurwen, Miss Eluned Harries of Betws and Miss Phyllis Thomas of Garnant. The accompanying piano playing by Griff Jones of the Cwmamman National Choir, made a magnificent musical combine.
Other contributions were made by the fine array of penillion singers and the Raven Male Voice Choir. Morgan R. Roberts recited the poem "Elis Edwards" and an accomplished local tenor, Stephen Rogerson, sang "Yr Eos". Following a party of youthful penillion singers, from Ammanford, Garnant and Brynamman, an up and coming local soprano; Miss Sal Evans, treated the audience with "Requiem" and "To the Fallen". Her contribution was followed by a rendition of "Llam y Cariadau", by the Cwmamman Choir.
The artwork shown below was then presented to Ceidrim, by the poet known as "Butts", of Brynamman. The work was the creation of the miner-artist, Moses Williams, of Cwmllynfell. Butts explained to the audience that although Ceidrim was a staunch and loyal Welshman, a portion of the artwork was composed in the English language out of fairness to the many substantial contributors to the endeavour, who were Englishmen. Even the Hon Secretary of the Committee who had organised the presentation; F. W. Gunning, was partly English and he had worked "untiringly" towards making the movement such a great success. Butts ended with a brief speech outlining Ceidrim's active life in the community.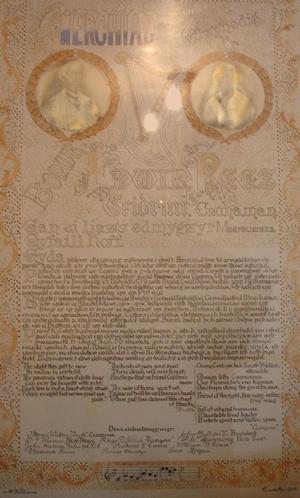 Click on image to enlarge.
Councillor John Harries (Irlwyn) of Bettws, handed over a gift of a well-filled wallet of money to Ceidrim and expressed the pleasure and honour it was to do so. He described Ceidrim's personality as "most kind, unassuming and genial" and said that Ceidrim was always ready to do a good turn and that he had spent his whole life in helping others in need. Irlwyn told the audience that Ceidrim had done his utmost as a committee member of the Ammanford National Eisteddfod.
When Ceidrim went to receive the gifts, the band of harps and piano struck up with "See, the Conquering Hero comes." He received the gifts in his usual racy and pithy style, but the emotional effect of the evening was expressed as "pointed strains".
A telegram from Rev. D Tegfan Davies of Ammanford was read out and speeches by other respectable members of the community referred to Ceidrim's kindness, modesty, popularity and originality in all things. He was called "the life of all social functions" and it was stated that all the children knew him on the street and were often seen hanging onto him as they made their way home from school.
More penillion singing and verses from Tom Owen of Cwmamman, which he had composed especially for the occasion, was followed by votes of thanks to all those who had taken part.
The tributes to Cedirim were not reserved merely for that evening. The 12th of July 1923 edition of the Amman Valley Chronicle, contained several verses penned by local poets in Ceidrim's honour. These included "Cwerydd" (Rhys D. Jones), "Gwilym Myrddin", "Willie Lowe" and "Ap Grenig". Ceidrim reciprocated with two poems of his own; "Diolchgan" and "Hymn of Thanks".
Before Ceidrim died at the relatively young age of 65 in 1936, he and his wife had moved to Onen Las, in the village of Bethlehem, near Llandeilo. A large crowd attended his funeral at Hen Bethel Chapel, Glanamman, to pay their final respects to who may have been the Cwmamman people's best loved and respected personality. The above salutation still takes pride of place at the home of one of Ceidrim's desendants.
Some brief examples of Ceidrim's verses can be found on a seperate webpage on this site.
Thanks to Mr and Mrs Rees of Glanamman for their invaluable contribution to this website.
References:
1871 Census Doc ref: RG10; Piece: 5436; Folio: 82; Page: 12.
1881 Census Doc ref: RG11; Piece: 5392; Folio: 92; Page: 40.
1891 Census Doc ref: RG12; Piece: 4513; Folio 80; Page 21.
Marriage Record: 4th Quarter 1907, ref: Llandilofawr; 11a 2135.
1901 Census Doc ref: RG13; Piece: 5108; Folio: 108; Page: 18.
Various editons of the Amman Valley Chronicle.