PeopleOf Cwmamman
Mr and Mrs Henry Folland
| | |
| --- | --- |
| Henry Folland | Leah Norah Folland |
If any individual who has resided in the Amman Valley epitomises success, it is Henry Folland, with his remarkable rise from lowly office clerk to a director of Europe's largest Tin Plate company.
Henry Folland was born at Waunarlwydd, Swansea in 1878 and lost his left arm in an accident at a young age. This kind of disability would have been a great hindrance to the life of most working class men, but Henry Folland was blessed with a talent; he was good with figures and was a remarkable statistician.
He started his working life at the Melyn Tinworks in Neath and then moved to the office of the Raven Tinplate works at Glanamman. It was not long before he became assistant cashier, then under-manager; the 1901 census lists Henry Folland as Tinplate Works Managers Assistant at the age of 23. He became manager of the Raven Tinplate works when the previous manager, Mr Gray, died. It was only a matter of time before his successful management earned him an appointment on the directorate. He was reportedly an excellent employer and respected by everyone he met. He is said to have kept the works going when others in his position may have been inclined to close due to the state of the industry. Henry Folland also became a director of other works, becoming head of the "Folland Group", which included the following:
Grovesend Steel and Tinplate Company.
Gorseinon Tinplate Works
Amman Tinplate Works, Garnant
Raven Tinplate Works, Glanamman
Dynevor Works, Pantyffynnon
Cambria Works, Pontardulais
Whitford Works, Briton Ferry
Hendy Works
Bryngwyn Works, Gorseinon
Dyffryn Works, Morriston
Mardy Works, Gorseinon
Henry Folland was also involved with the coal industry and had an interest in Killan Colliery at Dunvant.
When the Folland Group amalgamated with Richard Thomas and Company of Swansea and Llanelly, the union of these two large companies created the largest tinplate manufacturing company in Europe.
As well as being a successful businessman, Henry Folland, with his wife, became involved with other work and in 1925, he became High Sheriff of Carmarthenshire. By invitation, he became president of the Swansea University College, due to his record of support for the College at Singleton. He had also accepted a position as one of the presidents of the executive committee for the Royal National Esteddfod, which was to be held in Swansea in 1926.
Henry Folland had, due to ill health, spent his last few winters in Egypt. Before his last trip on the 26th January, 1926, he resigned as High Sheriff of Carmarthenshire and immediately set off for his favourite resort, the Mena House Hotel, near the pyramids at Cairo, taking his sister in law, Mrs H. D. Williams, with him. His wife, Mrs Folland, left for Cairo on 18th March, following the receipt of news that her husband was very ill.

Mena Village (Mena House Hotel not shown)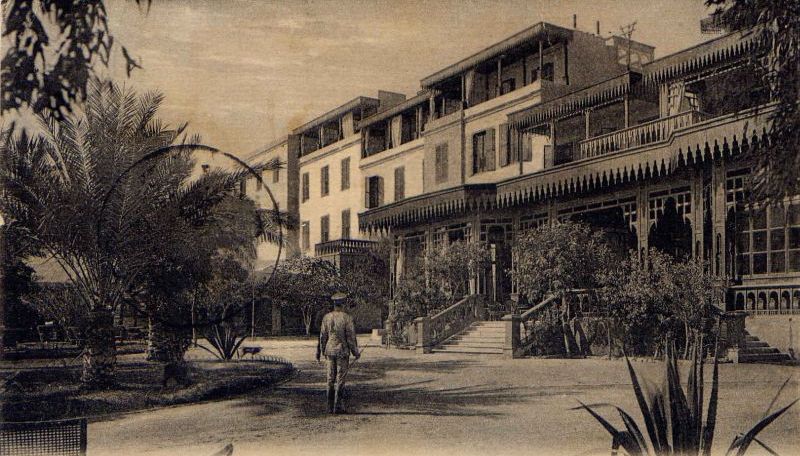 Mena House Hotel c.1926
On Wednesday 24th March, 1926, Henry Folland died of heart failure and the following day, a cablegram was received at the Folland family home; Llwynderw, at Blackpill, Swansea, bringing news of his death. When Henry Folland's demise became known, the "Folland Group" of works closed for an hours silence as a mark of respect. His epitaph, printed in the 1st of April, 1926 edition of the Amman Valley Chronicle, highlighted his benevolence and the respect with which he was held by the local community. His memorial service was held at Mount Pleasant Church, Swansea, on the afternoon of Tuesday 30th March, 1926 and was conducted by the Reverend T. N. Tattersall, in the presence of his widow, son, daughter and sister-in- law. On the same day, the Swansea Council held a meeting and passed a vote of sympathy with Henry Folland's family.
Mr Folland was buried at Oystermouth Cemetery on 24 April, 1926; one month after he died and in keeping with the times, the funeral notice included the words "gentlemen only". On 24 March 1927, the first of a series of "In Memoriam" notices appeared in the newspapers, which read as follows:
" A tender and loving tribute to my dear husband, Henry Folland, of Swansea, who 'passed on' at Mena House, Pyramids, Cairo, March 24, 1926 - Lil. To our darling daddy, who left us March 24, 1926 - Toots and Dudley. He is one of the unseen Spectators with their eyes 'watching over the gate.' "
The Amman Valley Chronicle reported in Henry Folland's epitaph, that a couple of years before his death, Henry Folland returned from Egypt with a superb Arabian horse and a native to ride it. A resident of the Mumbles, Albert Hopkins, remembers the beautiful white stallion being ridden by his middle eastern rider. After Henry Folland was laid to rest at Oystermouth, the rider would take the horse to the cemetery every evening. The horseman, Ali Abdul Megid Guneim, sat in front of the bridal car when Henry Folland's daughter Patti was married in 1930.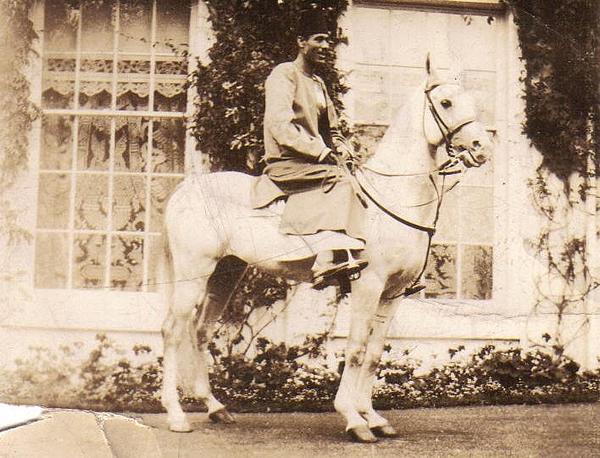 In his will, Mr Henry Folland left £10,000 to Swansea Hospital and £1,000 to Swansea and West Wales Institution for the Blind. He had hoped to establish a hospital at his old house at Cwmamman during his lifetime, and his wife did this on his behalf after his death.
Henry Folland's wife was Miss Leah Norah Thomas before they married in 1906. She was born in 1874 at Pontypool and was the daughter of Reverend John Thomas, who served as the Baptist Minister of Trinity Chapel at Penclawdd for 32 years.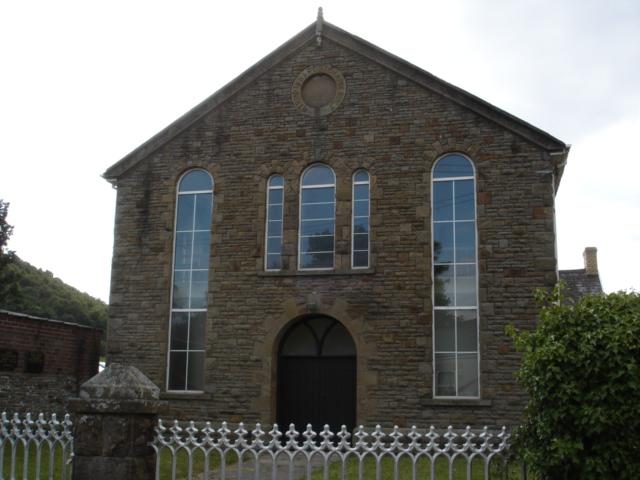 Trinity Chapel, Penclawdd, June 2008.
To the congregation of the chapel, Miss Leah Norah Thomas was known as "Lilly"; she also had two younger sisters - Laura and Vera. Mrs Skinner, a lady who knew the family, remembers that Lilly Thomas worked as a teacher at Crwys School at Three Crosses before she married Henry Folland in 1906. Her Obituary, however, states that she was a mistress at Gorseinon School when she met Henry Folland.
The same year that she was married, Lilly Folland lost her father, the Rev. John Thomas. He died on the 25th June, 1906 and was one of the best known ministers in South Wales at the time. He is buried at the cemetery on Blue Anchor Road in Penclawdd. Part of the inscription on his monument reads:
"THIS MONUMENT WAS ERECTED BY TRINITY CHURCH
AND OTHER FRIENDS AS A TOKEN OF AFFECTION
AND IN ADMIRATION OF HIS CHARACTER."
Also buried with him is his wife, Martha, who died on 20th June, 1921, aged 61 and one of their daughters, Laura, who died 20th December, 1960. Her age was not stated. Two other names appear on the monument; Patti and Granville Thomas. No other details were given.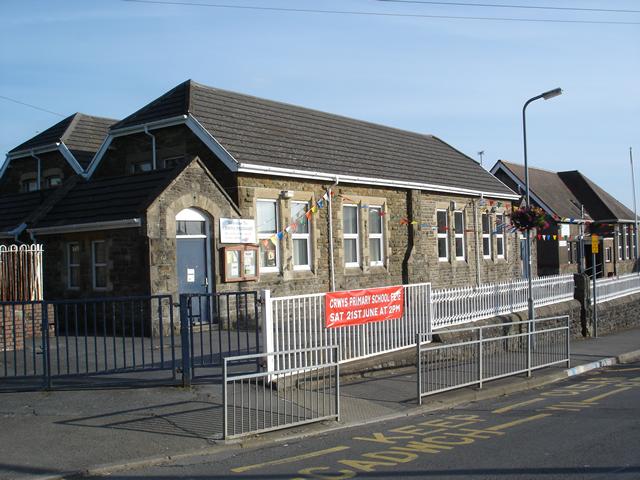 Crwys School, Three Crosses, June 2008.
Mrs Folland maintained her close links with her father's Chapel and with the local people of Penclawdd. Mrs Ruby Eugenie Skinner, a member of Trinity Chapel, remembers Lilly Folland and had an aunt who worked in domestic service for the Follands at Llwynderw. One of her memories was that after the Folland family moved to Llwynderw in the 1920's, an annual fete and gala was held at their Swansea home, in order to raise funds for Swansea Hospital on St. Helen's Road. Mrs Folland would ask the ladies of Trinity Chapel to help with the refreshments. Garden parties were also put on to raise funds for other causes, such as the one in 1925 in support of the Swansea Girls' Sunshine Club, of which Mrs Folland was president.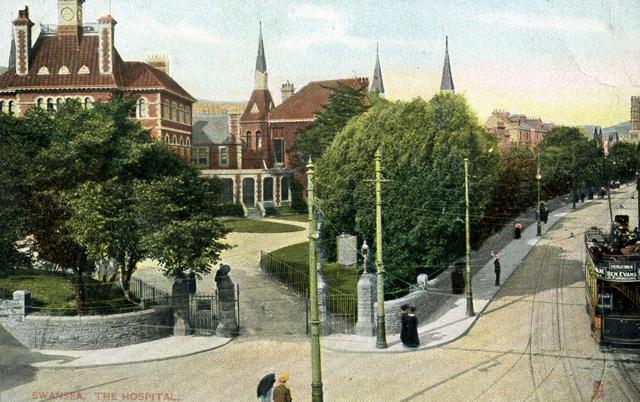 Swansea Hospital on St. Helen's Road c.1909.
Mr and Mrs Henry Folland had two children; a son, Dudley Croft Folland and a daughter, Patti Eugenie Folland, who was known affectionately as "Toots". Mrs Skinner was given the name Eugenie after Mrs Folland's daughter, due to the warmth between the families.
Dudley Folland owned the first Ferrari in Britain, which he used to race. It was a 166 Spyder Corsa, which he had painted in British Racing Green with two dragons on the front. He also played for Swansea R.F.C. and for a period was director of Swansea A.F.C. He served as an officer overseas during the second world war; I am informed by his niece that he was a Major in the army and served at Tripoli. More information about Dudley Folland's racing career is available at: www.historicracing.com.index.cfm.
His sister, Toots, married Mr H. W. W. Taylor and lived at Langland. Later in her life she was remarried to David Hamilton Gregory and lived at Killay before moving to Burwood Park, Walton-on-Thames.
| | |
| --- | --- |
| Dudley Croft Folland c.1936 | Patti Eugenie Taylor (nee Folland) c.1936 |
In Cwmamman, the generosity of the Folland family became unquestionable when they donated their former home, "Frondeg", fully equipped to serve as a much needed hospital for the people of the Amman Valley. They also showed their generosity when they did such things as presenting the Amman United Rugby Team with blazers and when they supplied the Cwmamman Silver Band with their smart uniforms. A photograph was taken of the Cwmamman Silver Band, seated with Mr and Mrs Henry Folland outside their Swansea home in 1925. The photograph appeared in the "Glo Man" 2004 calender.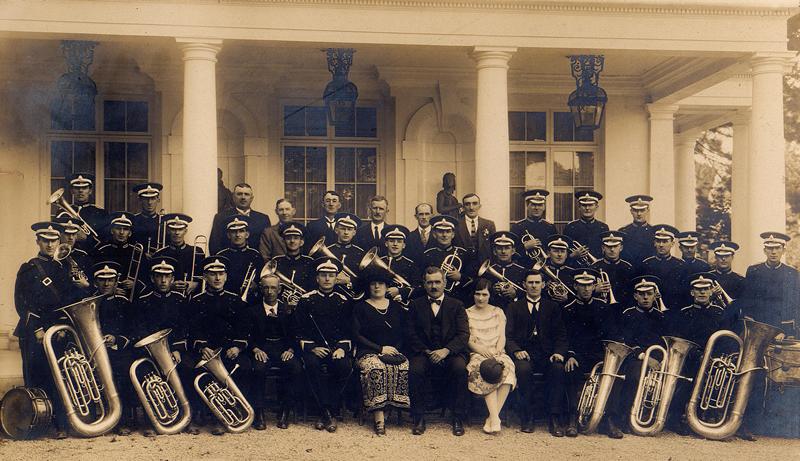 Cwmamman Silver Band at Llwynderw, 1925
There were a number of domestic staff employed at the Folland home at Swansea and Mrs Folland was known to take the whole staff shopping to London and Harrods. She was remembered as a very generous lady who cared for her staff. Henry Folland was not without a sense of humour and once when Lizzie the cook was away, Mr Folland asked another of his staff to cook fish and chips. When she served them up, Mr Folland jokingly asked her, "Mary where is the newspaper to wrap my fish and chips in?".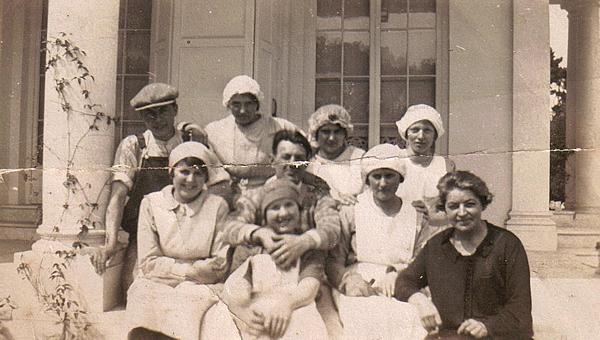 Some of the Staff at Llwynderw, Swansea; pre 1929
Mrs Folland, who, like her husband, became a J.P., became part of the political history of Swansea. At the General election of 1923, she sat as the Gower Parlimentary candidate for the Liberal party. She was, however, unsuccessful, receiving 10,219 votes to her opponents 14,771. The seat was won by the Labour candidate, David Rhys Grenfell, returning with a majority of 4,552. He retained the seat until he retired in 1959.
When York Place Baptist Church in Swansea underwent renovations, the re-opening of the Chapel was performed by Mrs Folland on Thursday December 5th, 1929. Reference was made to the fact that her father had preached there 40 years previously. Following the Mayor's tribute, Mrs Folland made a speech in which she aired some of her religeous concerns, referring to the growth of secularism and the growing disregard for the sanctity of the Sabbath. Her baptist upbringing was almost certainly the reason why Bethesda Baptist Chapel at Glanamman, was Mr and Mrs Folland's chosen place of worship when they lived at the village.
Mrs Leah Norah Folland was awarded the CBE (Commander of the Most Excellent Order of the British Empire), on the 8th June, 1939, for political and public services in South Wales.
Mrs Folland died on Tuesday March 12th, 1957, aged 83, at her Daughter's home at Burwater, Walton-on-Thames. Her epitaph states that she had been ill for some time. She was interred with her husband at the family crypt at Oystermouth Cemetery, on Thursday March 21st, 1957. The memorial service was held at Mount Pleasant Chapel, Swansea, as was that of her husband, nearly 31 years previously.
To the people of Cwmamman, Mrs Folland was regarded as a great and generous philanthropist, which earned her the title, "Lady Bountiful". The respect in which she was held, resulted in Horney Road, on which her former home in Glanamman is sited, becoming renamed, "Folland Road". The Cwmamman Urban Council unanimously voted in favour of the change at their meeting on 30th June, 1936, subject to the consent of the residents.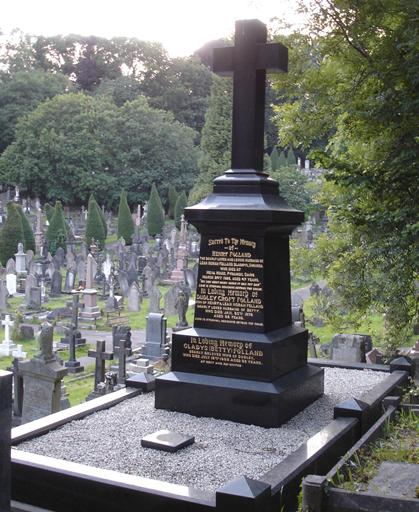 The Folland Family Memorial and Crypt.
Mumbles resident, Albert Hopkins, remembers that the Folland family home at Llwynderw, after being empty for some time, was taken over by Swansea Council and became a convalescent home. Consent to demolish Llwynderw House, which was a listed building, was granted by the Secretary of State in July 1986. Before it's demolition, the ornately pillared building, with beautiful ceilings, was damaged in a fire. It was later replaced by 34 modern retirement flats, with a plaque displaying the words "Folland Manor", serving as a reminder of the family who once resided there.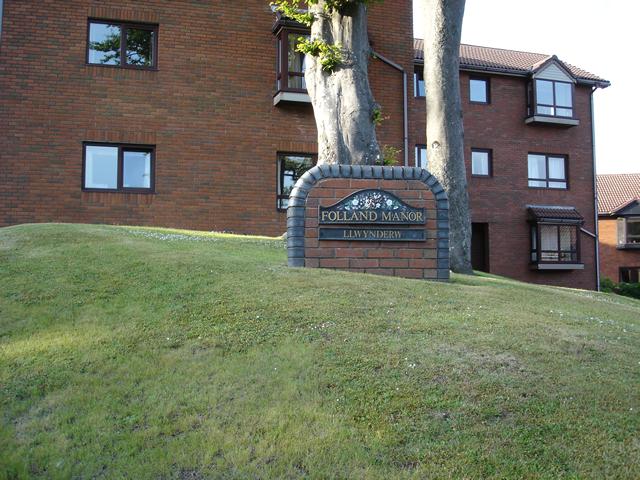 Site of Folland Manor June 2008.
In 1919 a poem, composed in the Welsh language and dedicated to Mrs Folland was written by a local poet, who went by the pen name of "Glanaman".
Sources:
Amman Valley Chronicle, 1936
Birth Index for Henry Folland: - District: Swansea, Vol: 11a, Page: 646
Birth Index for Leah Norah Thomas: - District: Pontypool, Vol: 11a, Page: 145
Marriage Index: - District: Gower, Vol: 11a. Page: 1327 1906
1881 Census: - Class: RG11; Piece: 5368; Folio: 72; Page: 26
Swansea Council Website: http://www.swansea.gov.uk/media/pdf/5/t/AREA_2_D_C_C_-_17_JANUARY_2006.pdf
Thanks to Albert Hopkins, Leigh Rayment, Mrs Ruby Skinner and Peter Harris for their invaluable contributions and to the South Wales Guardian for permission to use information from the Amman Valley Chronicle. Thanks also to "Welshgirl" and "Jennyrob" on Rootschat.com for their contribution.