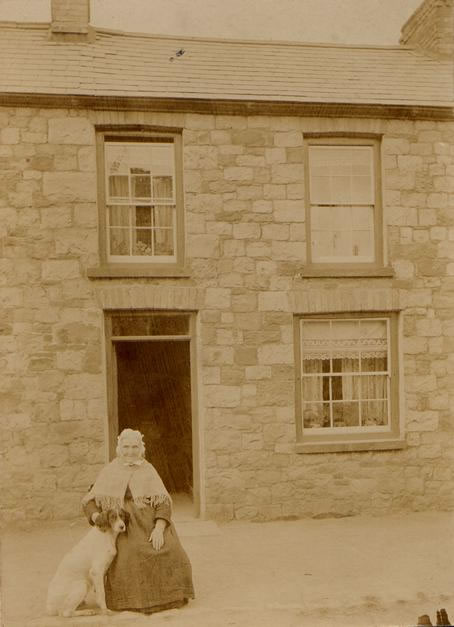 Mary Hughes, wife of David Hughes who was a deacon at Bethesda Chapel.
David Hughes was a stone mason and farmer. He was involved with the rebuilding of Bethesda Chapel and also in the construction of the Britannia School in Glanamman, which was used previous to Glanamman Council School opening in 1884. Before moving to a terrace on the main road, then known as "Bryngrenig", David and Mary lived at "Abergrenig Farm" in Glanamman. David Hughes is also reputed to have built the first five cottages of Bryngrenig; one for each of his daughters.
Mary and her husband raised two of their grandchildren from an early age; a girl named Hannah Mary Hughes and her cousin, Thomas David Michael. The boy was orphaned when his father died in the Garnant Colliery disaster and his mother died soon after giving birth. Mary would have been about 65 years old when she took in her orphaned grandson, who was only a couple of weeks old.
Thomas David Michael commissioned the building of the two houses on the eastern end of the "Bryngrenig" terrace. He was well known in his day for his skill with hunting dogs. In the side garden of the Thomas David's house, one of his Hughes cousins had an outbuilding which was used as a candle factory.
| | | |
| --- | --- | --- |
| Mary and David Hughes | Hannah Mary Hughes | Thomas David Michael |
Mary and her husband are buried at Bethesda cemetery. David lived to be 86; Mary lived until 1917, reaching the age of 95. She outlived her grandaughter, Hannah Mary Hughes, who is buried with them, having died at the relatively young age of 46 in 1915.