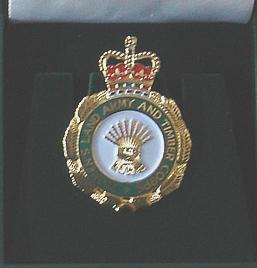 Badge received by Mrs Rosa Rees
In 2008, the British Government decided to formally recognise the efforts of those ladies who made up the Women's Land Army and Women's Timber Corps. This recognition included the receipt of a badge and certificate, by those whose hard physical work, meant that the people of Great Britain had food on their plates during the shortages caused by both the first and second world wars.
The badge, designed by the Garter King at Arms, shows a gold wheat sheaf on a white background to represent the Land Army and this is surrounded by a circlet of pine branches and pine cones to represent the Timber Corps. It also bears the Royal Crown.
Mrs Rosa Rees of Glanamman was one of the recipients, serving in the Women's Land Army from October 1947 to late Spring, 1949.
Rosa Moore, as she was known before she married, was one of six children. She grew up at Matthewstown; between Mountain Ash and Abercynon, where her father, John Daniel Moore, kept a General Store on Walsh Street. As a young lady, she trained as a Comptometer Operator (a comptometer is a kind of adding machine), before starting work at the wages department of A.B. Metals at Abercynnon.
Whilst travelling to work on the bus one morning in 1947, she saw a request on the front page of the Daily Mirror; "calling all girls to the Land Army". Knowing that the work was physically demanding and involved long hours, she decided to send off her application and was given an interview at Merthyr Tydfil. She took up her posting on the 7th October 1947 and was instructed in a letter, to catch a train from Cardiff to Llanelly; where she she would be collected and taken to a hostel at Cross Hands, Carmarthenshire, which was where she was to be stationed. Rosa remembers the morning well; she was the only person collected by the truck from Llanelly train station that morning. She was then aged about 22 years old.
From her base at Cross Hands, she, along with the other Land Girls, travelled to various farms in the area. She worked at Wern Ddu, Ammanford; Betws; Glanamman and Five Roads. She also worked at the Forestry at Brechfa, which she thoroughly enjoyed.
Rosa left the Land Army in 1949, after meeting her future husband; Glanamman man, Eifion Rees. Eifion had previously served with the Royal Navy.
Rosa is best known in the village of Cwmamman for being the organist at St Margaret's Church; a responsibility which she took over from Mrs Sadie Lamb in 1990. Rosa's interest in music began with her piano lessons at the age of 6 or 7. When she reached her early teens, she took up the piano accordion, an instrument she took to quite easily and from the age of 15, was a regular member of the Billy Thomas' Accordion Band. During the second world war, the band spent their Sunday's playing at various venues. The band would travel as far as Cardiff, Gloucester or Stroud in their endeavour to raise money for the British Troops.
Rosa's modesty prevented her from allowing me to post a photograph of her on this page, but great thanks are due to her for the information she has given me and for allowing me to display photographs of her badge and certificate. Most of all, though, great thanks are due to her and all the other Land Girls, for providing the nation with essential food, through some of the most difficult times in the history of Britain.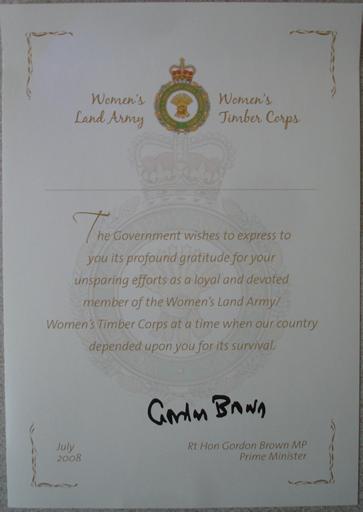 Certificate received from the British Government
The Women's Land Army was formally disbanded in 1950.