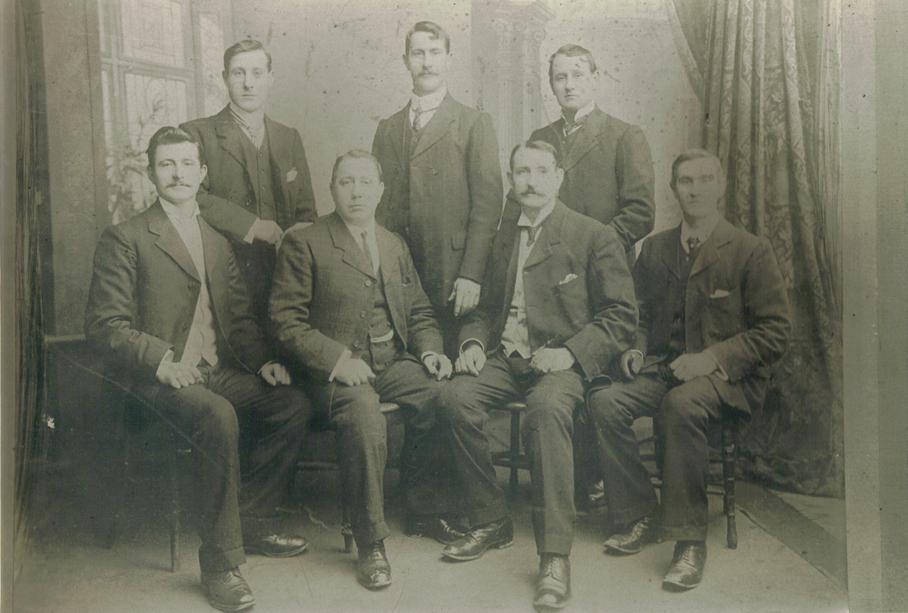 Seven of the eight Roberts brothers, Thomas, died in 1899. There were also six sisters.
Back row left to right: Robert, Philip and Rees.
Front row left to right: Samuel, Dafydd, William and John.
Robert (Robyn), owned a sweet shop at Prospect Place in Garnant, in the proximity of New Bethel Chapel. The 14th January, 1957, edition of the Amman Valley Chronicle reported that he was Vice-Chairman of the Cwmamman Old Age Pensioners Association. The following advert for Robyn's business appeared in the Amman Valley Hospital Souvenir Brochure in June 1936: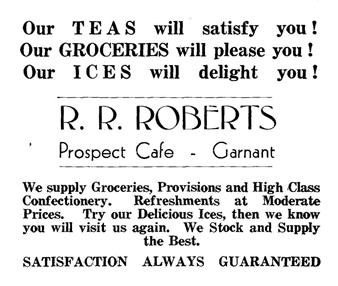 Philip was the grandfather of Ryan Davies, the famous comedian. Philip married Rachel Llewelyn in 1899. They had 5 children: Morgan, Muriel, Pegi, Nance and Ifor. Nance was Ryan Davies' mother. When Rachel Llewellyn was young, she was educated at Glynhir School. She was acquainted with the Du Buissons of the Glynhir estate. Philip injured his leg in an accident at Gellyceidrim Colliery on the same day as the Workmen's Hall opened at Garnant, on 19th February 1927. He was working at the coal face when there was a slip of coal and clod, which fell on his leg. When Sir Alfred Cope, chairman of the Amalgamated Anthracite Company, visited Cwmamman for the opening ceremony of the Hall, he first visited Philip Roberts at his home; "Mountain View", Mountain Road, Glanamman. Sir Alfred Cope sat chatting with Philip Robert at his bedside for some time and the 24th February, 1927 edition of the Amman Valley Chronicle, reported that he did not leave until he had been assured that Philip had been "afforded every possible treatment and was comfortable". Unfortunately, Philip died less than three weeks later, on the 10th March, 1927.
Rees was the great grandfather of the famous Australian poet, Shelton Lea, who died in May 2005 shortly after the release of his ninth book. Shelton was originally born Phillip Anthony Roberts, but he was adopted as a baby and was named Shelton Lea.
Samuel outlived the rest of his brothers, reaching the age of 84 in 1957. The 19th September, 1957, edition of the Amman Valley Chronicle, carried Samuel Roberts' obituary, which stated that he was the oldest member of Bethesda Chapel and had been a deacon for 30 years. His son, Bryn Roberts was a teacher at the Amman Valley Grammar School for many years and played rugby for Amman United R.F.C. in the 1920's. Samuel's decendants also include Deiniol Morgan, the Precentor of Westminster Abbey and Geraint Morgan, T.V. actor, who has appeared as Barry John in Pobl Y Cwm.
William sailed to Pennsylvania in November 1897 and was joined by his wife and three children in May of the following year. The family returned to Wales around 1903 and lived in Ynysmeudwy, before returning to Glanamman, where he ran a Bakery on Glanamman Square; Central Stores. A horse and cart was used to deliver bread and goods to the people of the village and later, this became a van round. He also built Carpanini's next door and built a Bungalow on Brynlloi Road.
John was known as John Roberts "Radroddwr", who became a well known elocutionist in the early part of the 20th Century. He won seven chairs at various Eisteddfods throughout South Wales, including the Swansea Eisteddfod in 1907 and the Carmarthen Eisteddfod in 1911. All his prizes, which included medals, certificates, cups and chairs, he won at elocution competitions. John Roberts died in 1949.
John was a positive influence on other members of the family, especially his brother Philip's children. Morgan Rhys Roberts who lived at Hendy Gwyn ar Daf, appeared on many radio programmes from the 1950's onwards. He died in 1975.
Marged, known as Pegi, came to some prominence at the Bala National Eisteddfod of 1968, as another successful elocutionist. Ifor, their brother also won prizes at Eisteddfods.
Although their sister Muriel seldom participated in public performances, her husband, the late Brinli Richards (1904-81) became the Archdruid of Gorsedd y Beirdd in the 1970s.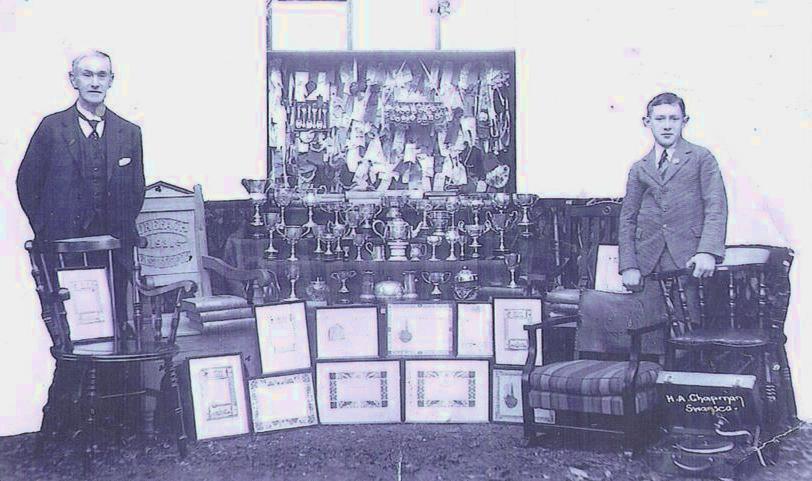 John Roberts (left) with his eisteddfod prizes.
The boy on the right of the picture is one of John Robert's students; Ivor John Thomas, the son of Councillor John Thomas of Penybont Shop, Glanamman. By the age of 8½, he had won 459 prizes including 5 massive cups. He grew up to be a medical doctor who, later in life lost his sight. Doctor Ivor John Thomas of Cwmamman, became a member of the Glanamman Drama Company which won prizes at both the Carmarthen and Colwyn Bay eisteddfod's in 1935 and 1936.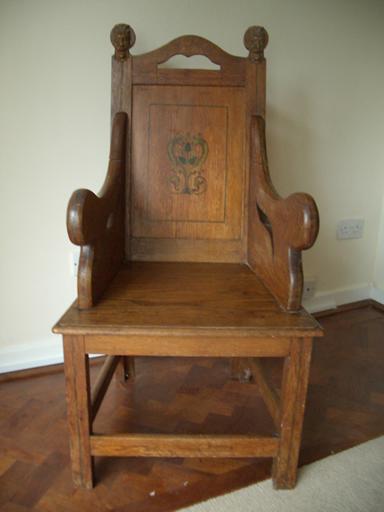 One of the chairs won at eisteddfod by John Roberts.
Thanks to Mike Lewis for the photographs. Thanks to Mike Lewis and Huw Walters, for the information. Thanks also to the South Wales Guarding for allowing me to use information from the Amman Valley Chronicle.