Dan-y-Bryn shop at the Raven Square, Garnant
The above photograph is of the "Dan-y-Bryn" shop at the Raven Square, Garnant, which was run by Ellis Williams, one of Daniel Williams' sons. The 1923 edition of Kelly's Directory lists two stationers owned by Daniel Williams & Sons; one at Garnant (shown above) and one at Glanamman.
Daniel Williams, of "Y Bryn" farm, Brynamman, worked as a coal miner at Garnant Colliery. He had a lucky escape on the morning of Wednesday the 16th of January, 1884, when he agreed to swap places in the cage with another collier. The cage was the "lift" which carried the men from the surface to the bottom of the pit. Daniel Williams was already in the cage when he was approached by 21 year old John David James, who asked him if he would be willing to let him go down in his place; the young man wished to finish work as early as possible to attend a funeral.
Having complied with the boy's request, Daniel Williams was left very shaken when the rope holding the cage broke and all ten of it's occupants were killed in a matter of seconds as they crashed at the pit bottom. It is said that he never went underground again. He changed his occupation and eventually became known for setting up the "Dan-y-Bryn" shops in Garnant and Glanamman.
Daniel settled permanently in Glanamman after his marriage to Margaret Rogers, to whom he was married for 45 years. The 14th January, 1926 edition of the Amman Valley Chronicle described how Daniel Williams opened in a small way as a newsagent whilst working as a miner, over 40 years previously; in the days when Garnant and Glanamman where known as the village of Cwmamman. He reached the age of 76 years and enjoyed good health until his final year, in 1926.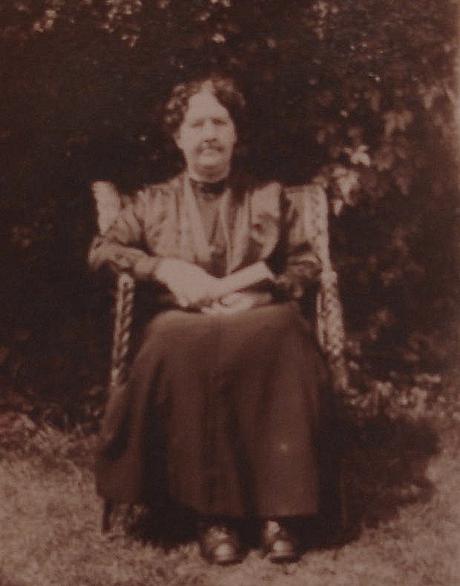 Daniel Williams' wife, Margaret.
Daniel's second son, Trevor Williams, B.A., B.D., became a pastor at the ancient Ebenezer and Bethania Congregational Churches at Upper Chapel, Breconshire. The A.V. Chronicle reported his enthusiasm, brilliance as a scholar and his taking dispositon. He started at his new position on Sunday 15th March, 1914.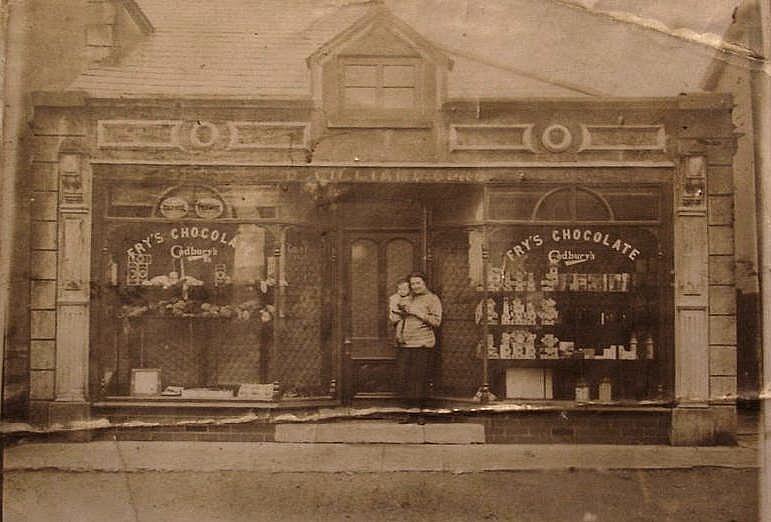 Gwyn "Dan-y-Bryn" Williams' shop, Glanamman
Another of Daniel and Margaret's sons; Gwyn Williams, had his first shop near the end of Ceidrim Terrace on what is now Cwmamman Road, Glanamman. The photographs, above and below show different aspects of the shop, which has since been converted into a dwelling house.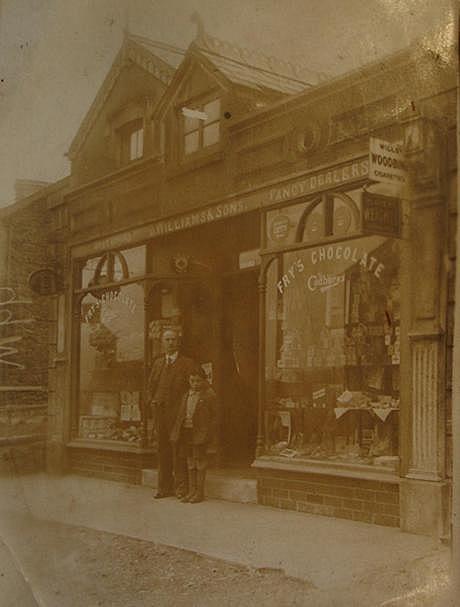 Gwyn "Dan-y-Bryn" outside his shop near Ceidrim Terrace, Glanamman.
Later, Gwyn Williams moved his shop to the end of Prospect Place in Garnant, next to New Bethel Chapel. The new premises (shown in the photograph below), had previously been a newsagents and stationers owned by Moses Rees and is listed in Kelly's Directory for both 1910 and 1923 under that name.

Advert for Moses Rees' Shop in 1922.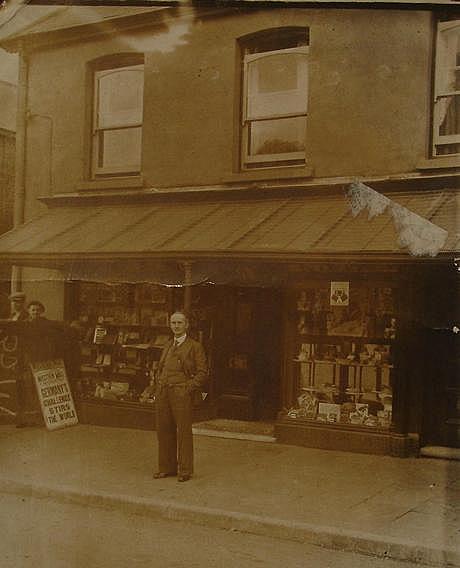 Gwyn Williams outside his shop at Prospect Place, Garnant, c.1940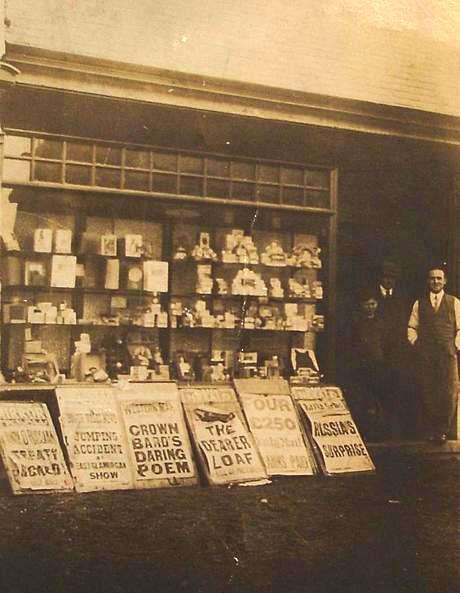 "Shop Alun" at Grenig Road.
Alun Williams, another of Daniel and Margaret Williams' sons, had a shop at the bottom of Grenig Road, Glanamman. It was known locally as "Shop Alun".
The building later became "Clwb Godre'r Mynydd Du", a shooting and fishing club. It is also the headquarters of Cwmamman United Soccer Club.
There was also a "Dan-y-Bryn" shop run by Myrddin Williams near Brynlloi Road, Glanamman, the location of which is now the garage of a private house. Myrddin and his wife Bella later moved their newsagents and sweet shop to Glanamman Square, on the corner of Station Road. The later premises had previously been a taylor's shop owned by Dick Bell.
Daniel Williams' enterprise resulted in four shops for four sons, in prime locations in Cwmamman.

Advert for Daniel Williams shops in 1922.