General view of the Settlement area on the Drysgol July 2014.
The Pedol Valley, or Cwmpedol, as it is better known locally, joins the Amman Valley from a general northerly direction. It carries the River Pedol from its source in the Black Mountain, to where it becomes a tributary of the River Amman near the Palais Car Park at Upper Station Road, Garnant.
The hillside on the eastern side of the Pedol is known as Foel. The westerly riverbank rises steeply to become the Drysgol, reaching a height of 380 metres at its zenith. On the lower slopes of the Drysgol (around 250 metres), on an area now heavily covered by ferns are the remains of structures, some of which are believed to date as far back as prehistoric times.
Cutting through the settlement site is a public footpath which can be accessed from several places along Llandeilo Road above Glanamman and Garnant and is shown on modern Ordnance Survey maps.
In an area thickly covered with ferns, it is difficult to find most of the low level structures which have been catalogued by archaeologists. One of the easiest structures to locate is the long curved earth and stone bank which stretches for some distance. At the northern end of the bank is what is believed to be the possible remains of a circular hut. It is possible that the two structures were joined.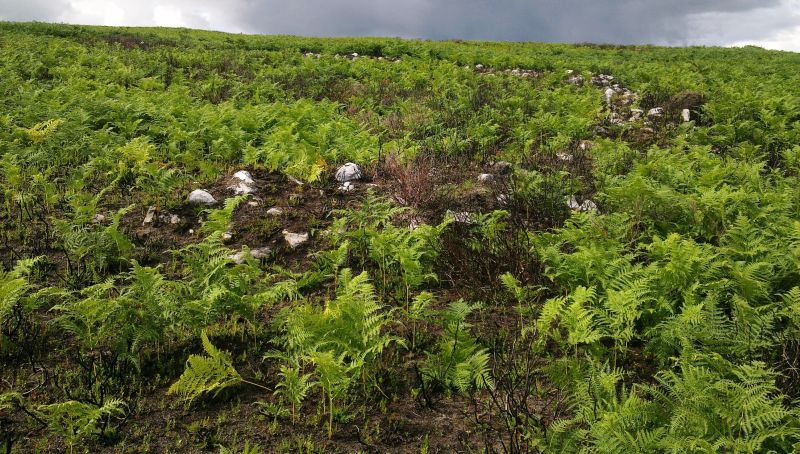 Curved stone and earth bank from the southern side of the structure.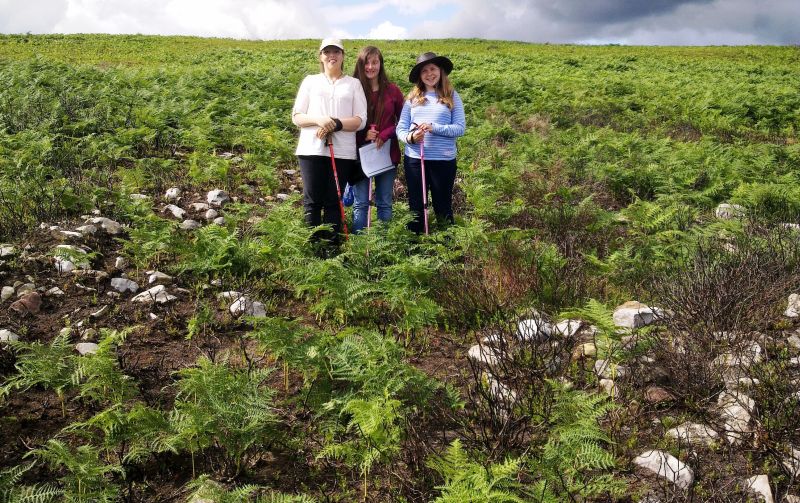 Three intrepid explorers standing at the centre of what may have been a prehistoric circular hut July 2014.
The above photograph shows the location of what may have been a prehistoric circular hut, joined to the northern end of the curved bank. The people shown in the photograph give us an idea of scale. These structures are at the eastern end of the settlement.
Other structures which the author managed to locate lay north of the footpath. What appears to a layman as a mere cluster of stones has been identified as a possible ritual cairn dating back to a prehistoric era.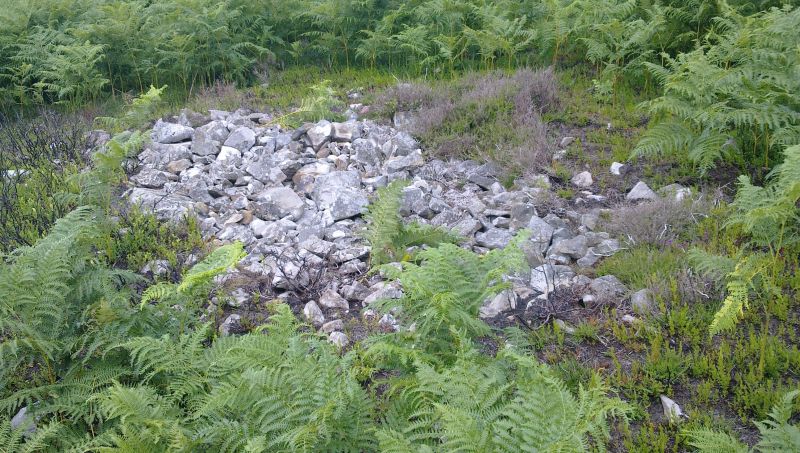 Possible prehistoric ritual cairn.
The Drysgol would also have been part of the summer grazing pastures used by the lords of Carreg Cennen Castle and a a few structures thought to date to the mediaeval or post mediaeval period have been identified at the settlement. The following photograph shows what is believed to have been a long hut.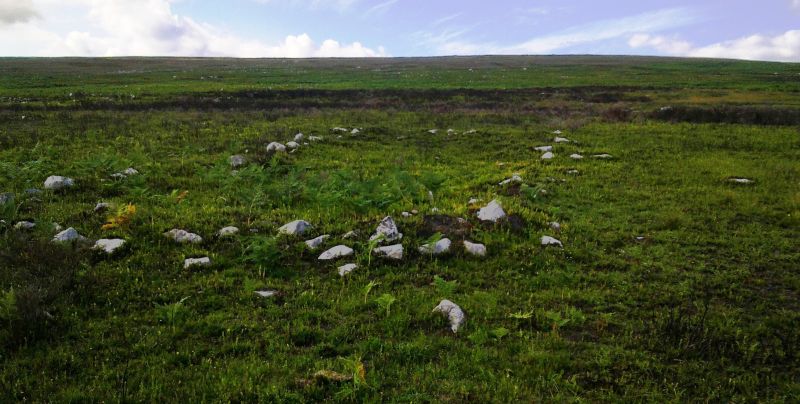 Possible long hut on the Drysgol.

Information for this page is from Historic Environment Records held by the Dyfed Archaeological Trust. These include the following references:
PRN: 31747 (Hut Circle, Enclosure) Drysgol: Archive DAT 1997 Meithrin Mynydd Project Archive
Other Sources: Murphy, F 2009 Scheduling enhancement project 2009: Prehistoric sites fieldwork, Carmarthenshire.
PRN: 31745 (Cairn) and PRN: 31740 (Long Hut) Drysgol: Archive DAT 1997 Meithrin Mynydd Project Archive.