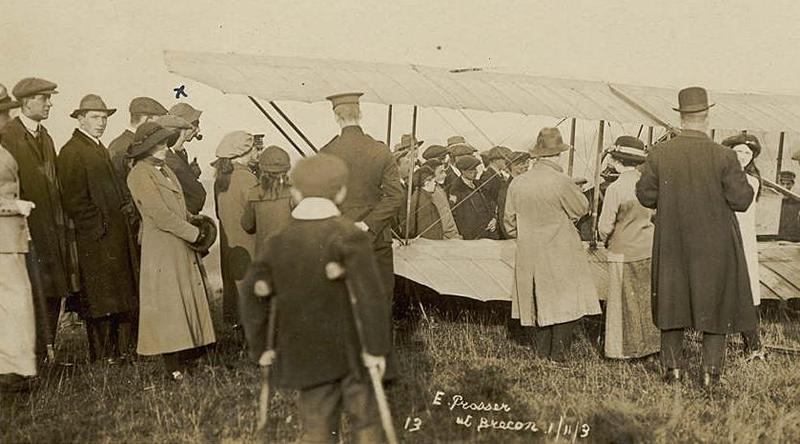 Image Copyright© Powys County Council and Brecknock Museum & Art Gallery
Saturday the 25th of October 1913 was the day that a well known aviator named Edwin Prosser flew the first aeroplane over Cwmamman. The 30th October 1913 edition of the Amman Valley Chronicle amusingly reported:
"Every vantage point was thronged with people watching the first aeroplane flying through the district and, of course, like most other things, it went to Ammanford."
A very large crowd gathered to see the 19 year old pilot fly his 50 horsepower Caudron bi-plane. His flying exhibition consisted of two flights, which could be seen and heard by large numbers of people in all parts of the locality when his plane circled very high in the air.
The above photograph was taken a week later when Edwin Prosser took his aeroplane to Brecon, where he landed at Slwch Farm. He flew over the town the following day.
Edwin Prosser was born at Wolverhampton on the 14th of April 1895 and obtained his Royal Aero Club Aviator's Certificate from Hendon Flying School, London in June of 1913. He later moved to Australia where he trained others to fly aeroplanes.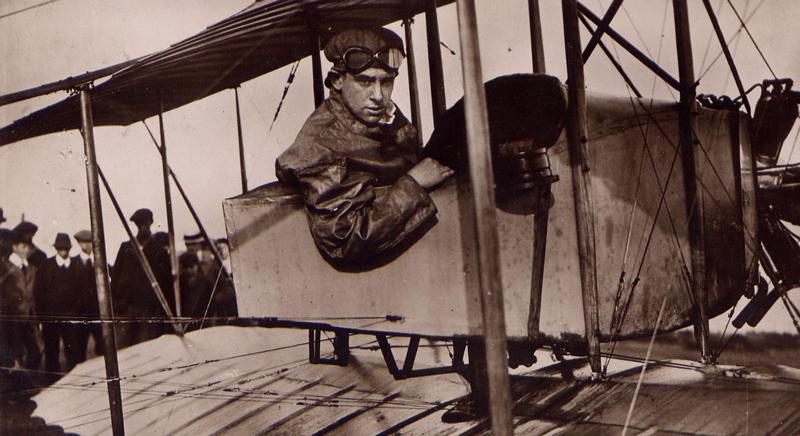 Edwin Prosser at Birmingham
Thanks to Brecknock Museum & Art Gallery for permission to display the top photograph on this site. Thanks to Mr G. for the photo of Edwin Prosser. Sources of information include the Amman Valley Chronicle.