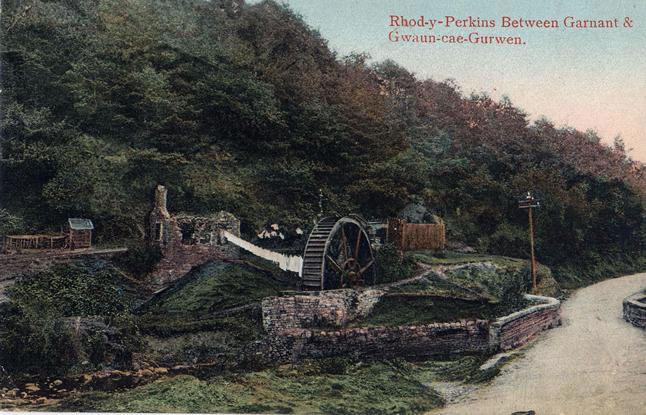 Pwll Perkins Water Wheel; "Rhod Y Perkins", c.1907.
One of the oldest pits in the Amman Valley, the Original Garnant Pit was sunk c.1830 on the north side of the bridge.On the16th of April 1847, a man called William Thomas was killed and 23 others were injured here, when a gas explosion occurred.
In 1974, another pit was sunk, on the south side of the river. On November 20th, 1879, a man named Isaac J. Thomas died at the yard of Garnant Pit. The newer pit was the scene of the Amman Valley's worst mining accident on 16th January 1884. Ten men and boys died when the rope of the cage broke, causing them to fall 225 feet to their death.
Work commenced in August 1913, to widen the joint county bridge from 12 feet to 30 feet. It was considered to be a dangerous spot due to the amount of motor driving at the time! The 9th October 1913 edition of "The South Wales Chronicle" reported that the ceremony of filling the keystone of the arch, was performed by Mr William Jones, landlord of the Globe Inn, on Saturday 4th October 1913. A considerable crowd gathered to watch the event.
The January 8th, 1914, edition of the Amman Valley Chronicle, stated that a meeting of the Cwmamman Urban Council was held on New Years Eve at Bethesda Chapel and raised the issue of the inadequate grant received from Llandilo Rural Council for the upkeep of this bridge. The apportionment of the grant for the upkeep of county bridges came to only £3 for the above bridge and the Cwmman Urban Council considered this to be inadequate, due to the comparitively heavy traffic over the bridge. The council decided that it as they had not yet received a response to their letter of appeal, the matter should be left in the hands of their County Councillors, and accept any reasonable offer made.