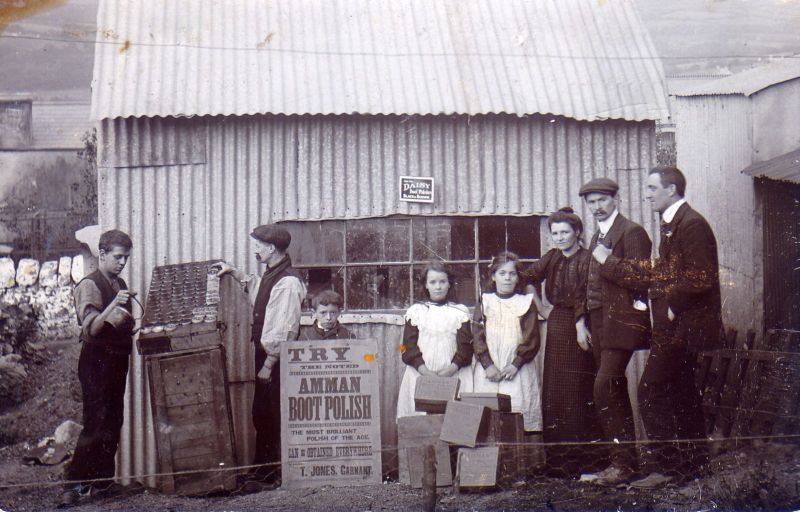 The above building was used by Thomas Jones; the son of a self employed boot and shoe maker named David Jones. It was used for the purpose of making polish. and was situated at the rear of a house which was once known as Mountain View at Garnant. David Jones was responsible for the building of the house which is on the southern side of Cwmamman Road, approximately 200 metres west of Upper Station Road.. The image is believed to have been taken sometime before 1914.
David's son, Tom, was also a shoe and boot maker and is pictured 2nd from the right with his wife Sarah standing next to him. It is uncertain as to who the remainder of the people are, though it is likely that they are family members. The 1891 census showed that there was also another shoemaker named Thomas Rees lodging at Mountain View and it is very likely that he worked fpr David Jones.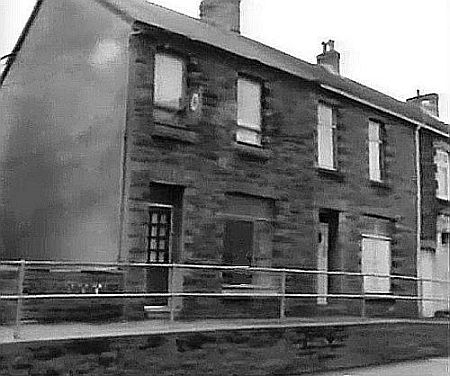 Mountain View 1994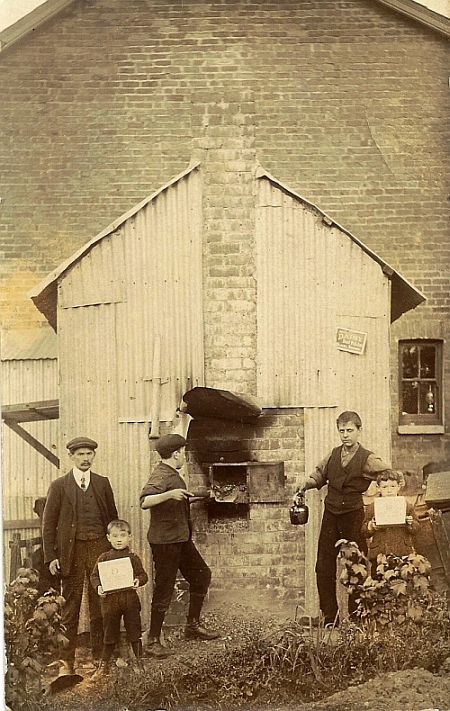 Tom Jones at the Polish Factory
Tom Jones fought in France during the Great War and was taken captive and held as a prisoner of war. It is not known what kind of treatment he received at the hands of the enemy, but the effects of the Great War on those who were directly involved were often profound even when not obvious.
Tom came home after the war but left his homeland and family for a new life in France where he spent the rest of his days.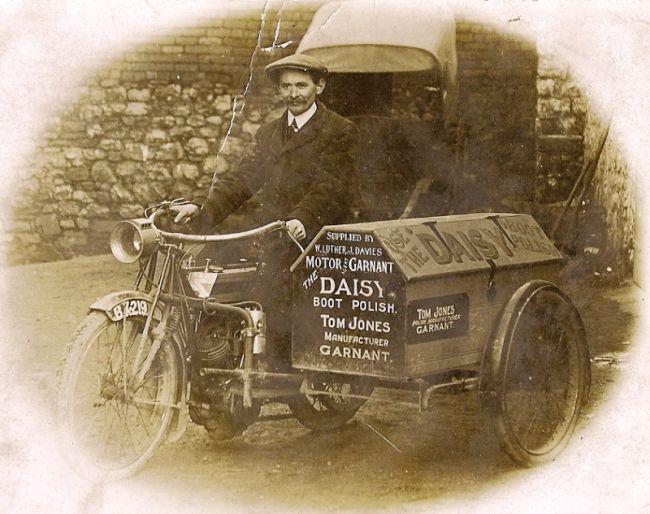 The above photograph shows one of the ways in which Tom's Boot Polish was delivered to his customers. The names of Luther Davies, Motor Agent, Garnant is displayed along with the text Tom Jones Manufacturer and Daisy Boot Polish on the motorcycle's side carriage.
An advert in the Amman Valley Chronicle on the 9th of October 1913 stated the following:
"The "DAISY" BOOT POLISH can be obtained from all Grocers, Oil Men Etc., 1d., 2d., 4d., tins - Manufactured by T. Jones, Garnant"
Thanks to Mrs Diana Williams (Tom's Grand -daughter), for the 2nd and 3rd photographs and for the information on this page. Thanks also to Dilys Jenkins for the top photograph.