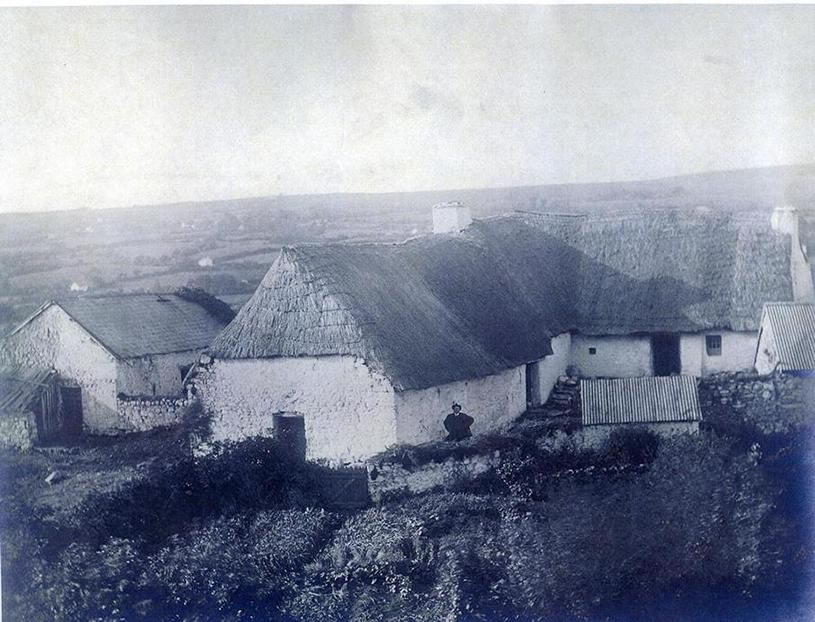 Brynlloi Farm, which was demolished in in 1906.
The original Brynlloi farm at Glanamman, pictured above, is said to have dated back to at least 1494 and was used as a religious meeting place for worship as early as 1727. In the late 18th century, a Sunday school was held there. Glanamman Primary School, Brynlloi British School (where Brynseion Chapel now stands), and Bethesda Chapel are all built on land which was once part of the Brynlloi estate.
The earliest coal mine in the Amman Valley, dating as far back as 1757, was on Brynlloi land. Coal was said to have been brought out of the drift mine by a barge.
During the 18th century, Griffith Jones of Llanddowror started his circulating schools. His publication; "Welsh Piety", listed farms in the locality which hosted the schools between 1741 and 1767 and Brynlloi is among those listed:
| | | |
| --- | --- | --- |
| Year | Farm | Number Of Pupils |
| 1741 - 1742 | Cwmamman | 49 |
| 1742 - 1743 | Cwmamman | 51 |
| 1744 - 1745 | Brynlloi | 40 |
| 1749 - 1750 | Y Neuadd | 62 |
| 1756 - 1767 | Cwmamman | 72 |
| 1756 - 1757 | Cwmpedol | 55 |
| 1758 - 1759 | Cwmpedol | 61 |
| 1759 - 1760 | Llwyn Yr Haf | 61 |
| 1760 - 1761 | Glyndreinog | 64 |
| 1761 - 1762 | Glynmoch | 34 |
| 1765 - 1766 | Gelliceidrim | 64 |
| 1766 - 1767 | Ty Dan Yr Heol | 41 |
| 1766 - 1767 | Ty'n Y Wern | 42 |
In 1802, David Morgan (1743 -1811) was the tenant at Brynlloi. He paid an annual sum of £2 (approx.£89 in today's terms), to the landowner, David Davies Esq.
The 1841 census recorded that Brynlloi Farm was the home of John Morgan (1785 - 1858) and his wife Rachel. They had six children living with them at that time, with their ages ranging from approximately 8 to 26 years.
John Morgan was still head of the household at Brynlloi Farm in 1851 and the census recorded his occupation as "Farmer of 40 acres". In his employment was a son, David, who was aged 37 and worked on the farm. A widowed daughter, Rachel Thomas aged 25, was employed as a house servant. Another son who lived at Brynlloi at that time was 25 year old William who may have been Rachel's twin. His occupation was that of "Boot and Shoemaker". A 40 year old man from St Peter's, Carmarthenshire, was also living at the farm at that time and shared William's occupation. Also at Brynlloi Farm in 1851 was 6 year old Mary Morgan and 3 year old William Thomas; John and Rachel's grandchildren.
Sometime after John Morgan died in 1858, his widow Rachel and granddaughter Mary, moved to Tirycoed Cottage at Glanamman and one of his sons, Jonah, became head of the household at Brynlloi. Jonah had married and left home by the time of the 1851 census and had been working as a coal miner. By the time of the 1861 census, he and his wife, Catherine, had moved back to Brynlloi Farm and had three children aged between 5 and 11 years old. Jonah's occupation was recorded as "Farmer of 50 acres". There was also a 19 year old female house servant living with the family at Brynlloi Farm.
Jonah Morgan died in 1867 and his widow Catherine became head of the household. The 1871 census recorded that she was a "Farmer of 40 acres" and that her two daughters who were both adults by that time, were living with her at Brynlloi. There was also a 30 year old male servant living at the Farm.
By 1881, 57 year old Catherine Morgan had 80 acres to farm and although all of her children had left home, she had two servants; one male and one female, living with her at Brynlloi. At that time, there was also a 28 year old corn miller named David Morgan lodging at Brynlloi Farm along with his wife and baby. Whether David Morgan was related to Catherine is uncertain. David had his own servant who was also lodging with them.
Catherine Morgan remained at Brynlloi until at least 1891 and although David Morgan and his family were no longer lodging with her, there was a male and a female servant living at the Farm. It is uncertain what happened to Catherine Morgan, but by the time of the 1901 census, Brynlloi Farm was occupied by a 61 year old widow named Mary Lloyd. Her son Thomas Lloyd who also lived with her was recorded as being a "Haulier at a corn house."
The Morgan family of Cwmamman are prominent in the history of the area. David Morgan (Brynlloi, 1802) and his son, William, were instrumental in the establishment of the Baptist movement in the locality, whilst Morgan Morgan of Ty Llwyd, was the stonemason who built Christchurch in Garnant. He was also involved in the early stages of the construction of Llandeilo bridge. Another eminent member of the same Morgan family was William Morgan of Bodist Farm, who kept meticulous records as treasurer of the Brynlloi British School.
The old Brynlloi Farm building was demolished in 1906.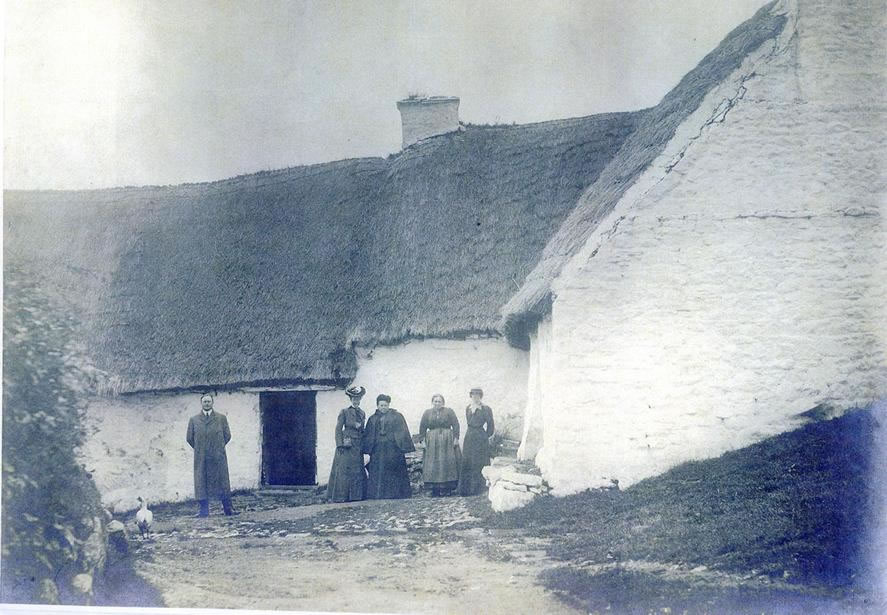 The above picture dates to c.1890 when Margaret Morgan Thomas (center), returned to visit Brynlloi with her children. Margaret Morgan Thomas was born at Brynlloi in 1834, but emigrated to the United States with her husband and son in 1868, settling in Niles, Ohio. They named their family home "Bryn Hyfryd".
The man on the left is Margaret's son, William Aubrey Thomas, who became a congressman in Teddy Roosevelt's government. He was born in Bynea in 1866. William Aubrey Thomas became an analytical chemist, engaged in the iron and steel business. He was president of the Mahoning Steel Company and secretary and director of the Niles Fire Brick Company.
He was elected and served as a Republican in the 58th to 61st Congresses, from November 8th, 1904, to March 3rd, 1911. After failing to win re-election to the 62nd Congress in 1910, William Aubrey Thomas moved to Jenifer, Alabama in 1918 and continued his interest in Iron, Steel and Firebrick. He died in 1951 at Talladega, Alabama and is buried at Youngstown, Ohio.
The girl in the fancy hat is Mary Anne Thomas, his sister, born 1878 at Ohio.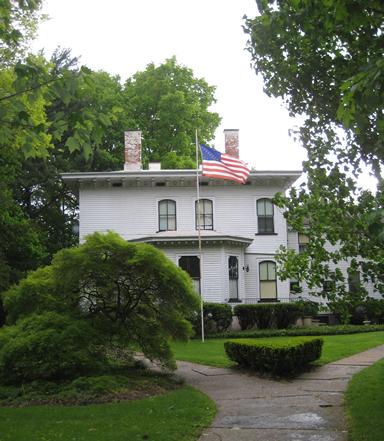 "Bryn Hyfryd", Ohio, 2008: Now the Ward-Thomas Museum, owned by the Niles Historical Society
Thanks to Janet Cross and Dori Yang for the pictures of Brynlloi Farm and for the information on Margaret Morgan and her family. Thanks also to Dilys E. Jenkins who allowed me to use information from her document entitled; "Llandeilo Bridge and it's Cwmamman Connections", created in 1996, for the Amman Valley Historical Society. Other sources include "Hanner Canrif o Hanes Bryn Seion, Glanaman" by John Jenkyn Morgan.