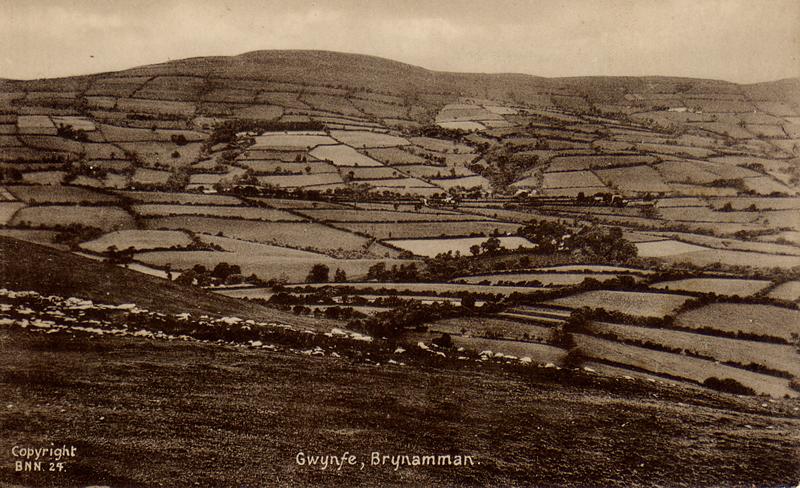 Gwynfe View c.1932

The view shown above was taken from the part of the Black mountain above Tro Gwcw. The image below was taken in June 2009 from just below the Car Park.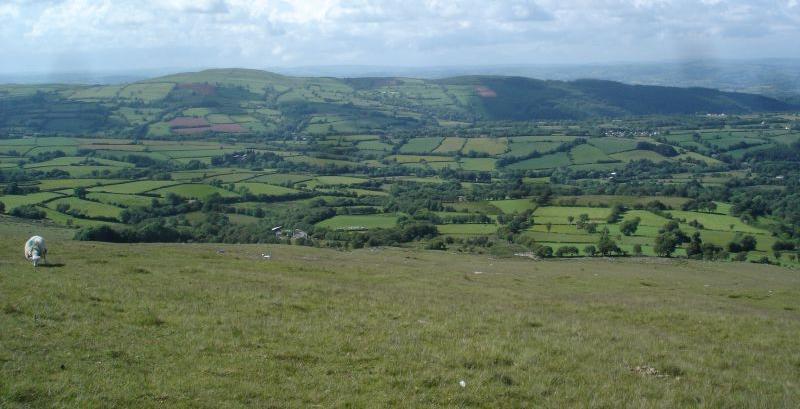 Gwynfe View 2009
Click on the modern image above to enlarge.
The mountain road (A4069) linking Llangadog and Brynamman is an extremely popular route for tourists and locals alike who wish to enjoy the breathtaking vista of which the above image shows only part. Before the traditional Welsh counties were abolished on the 1st of April 1974, it was said that five counties could be seen on a clear day from the car park above the hairpin bend known as Tro Gwcw. These were PROBABLY Carmarthenshire, Glamorgan, Brecknock, Cardigan and Radnor.
One tourist who traversed the road was George Borrow, who gave an account of his journey in Chapter 98 of his travelogue "Wild Wales" which was published in 1862. The mountain above Tro Gwcw, which forms part of the Brecon Beacons National Park, has been heavily quarried for limestone which, when burned with local coal, was used to make lime. For generations, farmers used locally produced lime as a fertiliser and the remains of old lime kilns are still to be found in the area.
The historic parish of Gwynfe itself has remained an agricultural area accessed only by narrow country roads. The focal point of the village is at Capel Gwynfe, where the tranquility of the idyll is enhanced by the sound of birdsong. Capel Gwynfe boasts a small mediaeval church in the grounds of the main churchyard. The main church (All Saints Church) was built in 1899 from Red Sandstone which is found locally.
There are two chapels in Gwynfe; Jerusalem which was built in 1827 and Capel y Maen, built in 1852. Both Independent chapels have a burial ground, as does the main Church.
An old map dated 1891 shows that Gwynfe once had its own school and also a woollen factory named "Glan-dwr", near Godre'r Waun. There was a smithy at Bryn Clydach and another near to Neuadd. A post office is also marked on the old map, again in close proximity to Neuadd. Felin Newydd was a corn mill.
There were two local hostelries at Gwynfe; The Griffin Inn on what is now the A4069 and the Mason's Arms at Capel Gwynfe itself. William Rees, who lived to be 103 years old, kept the Griffin Inn for 69 years before moving to Garnant to live with his daughter.
Another centenarian who emanated from Gwynfe was Jane Lewis who lived to be 104. She was born at Penlanfach in Gwynfe but she and her parents left the village when she was 4 years old.


Griffin House: Once the Griffin Inn at Gwynfe