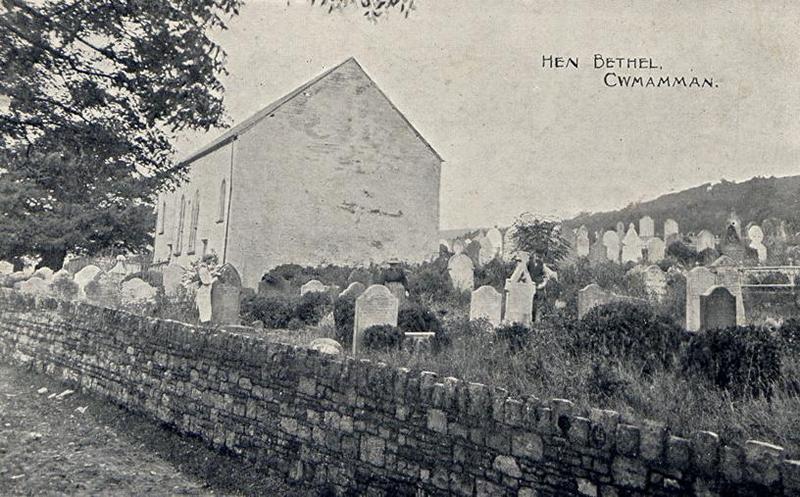 Hen Bethel Chapel in early 1900's.
Also known locally as "Yr Hên Dy Cwrdd" (The Old Meeting House), Hên Bethel (Old Bethel), is the oldest chapel in Cwmamman and was originally a branch of Cwmllynfell Chapel. Before it was built in 1773, local people had no formal place of worship and probably would have gathered together in their respective farmsteads. Brynlloi Farm was used for such purpose in 1727.
The Morgan familly of Ty-llwyd, Glanamman were closely linked with the history of the chapel and this is evident by the headstone built into the Eastern wall.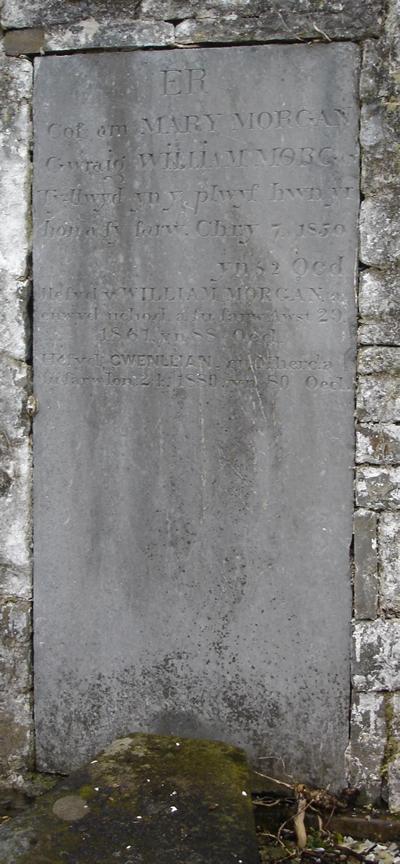 A similar stone is built into the Eastern Wall and is dedicated to the memory of John Howells, his wife Margaret and their daughter Anne who lived at "Glundrinog". Anne was sadly only 9 years old when she died in 1823. Glyndreinog Farm lies in close proximity to Hen Bethel and it is possible that the chapel sits on what was once part of the Glyndreinog estate.
Sitting high on the North side of the valley, it seems rather remote nowadays but at the time of it's construction, one of the main roads into Cwmamman went past the front entrance of the chapel. The primary route from Llandilofawr to Neath lay in close proximity, but when the turnpike road through Cwmamman was constructed in 1817, Hên Bethel's remoteness from the valley's growing population became more evident. Both the Morning and Evening Sunday services continued at Hên Bethel until 1864 when the Britannia School was built at Glanamman Square. The school building was then used because of it's convenient location.
The main route to Hên Bethel from Glanamman went from Horney Road (now named Folland Road), past Ty-Llwyd Farm. Local legend tells of ghost funeral processions travelling this route and tales of an eerie figure wearing a top hat and standing at the chapel gates. Organ music has also reputedly been heard emanating from Hên Bethel Chapel late at night. This tale is made all the more remarkable by the fact that Hên Bethel has no organ! The chapel did at one time contain a harmonium and reference to the "120 year old" instrument was made in the 1st of January 1948 edition of the Amman Valley Chronicle. The remoteness, age and extensive cemetery of Hên Bethel have undoubtedly captured the imagination of local people.
Hên Bethel February 2009.
Near to the derelict stables is the grave of the Rev. John Davies, a former pastor of Hên Bethel. The inscription on his monument gives us a small insight into his commitment and character:
"IN LOVING REMEMBRANCE
OF
THE REVEREND JOHN DAVIES
PASTOR OF BETHEL INDEPENDENT
CHURCH CWMAMMAN FOR 40 YEARS
BORN DECEMBER 2nd 1807
DIED OCTOBER 18th 1886
HE WAS ORDAINED AT PENYGRAIG
CARMARTHEN, IN THE YEAR 1829
REMOVED TO CWMAMMAN IN THE YEAR
1835 RESIGNING HIS CHARGE OWING TO
THE INFIRMITIES OF AGE IN THE YEAR 1877
---
HE WAS AN ACCOMPLISHED SCHOLAR
AN ABLE THEOLOGIAN, AN ELOQUENT
AND POWERFUL PREACHER AND HIS
MINISTRY WAS EMINENTLY SUCCESSFUL"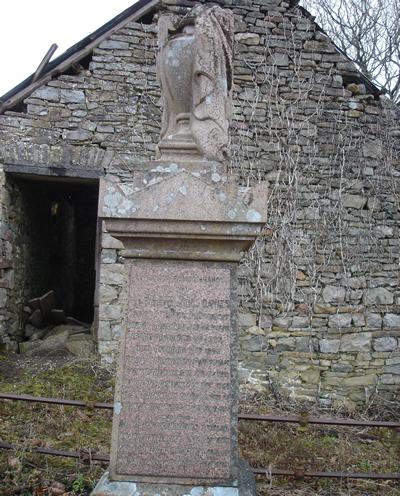 In a predominantly Welsh environment, it is interesting that the Rev Davies' headstone bears an inscription written in the English language. More information about the Rev. John Davies can be found at Rina Callingham's website: http://www.a-glamorgan-family.com/ReverendJohnDavies.html.
Other interesting headstones at the Hên Bethel cemetery include that of John Evan Jones of Cwmamman and that of William Williams of Bryncethin, Garnant. Each of these are inscribed with a traditional Welsh poem known as an Englyn. The famous comedian Ryan Davies is also buried there, as well as other local celebrities such as singer Bob Michael and the popular bard and wit; Edwin Rees, known locally as "Ceidrim".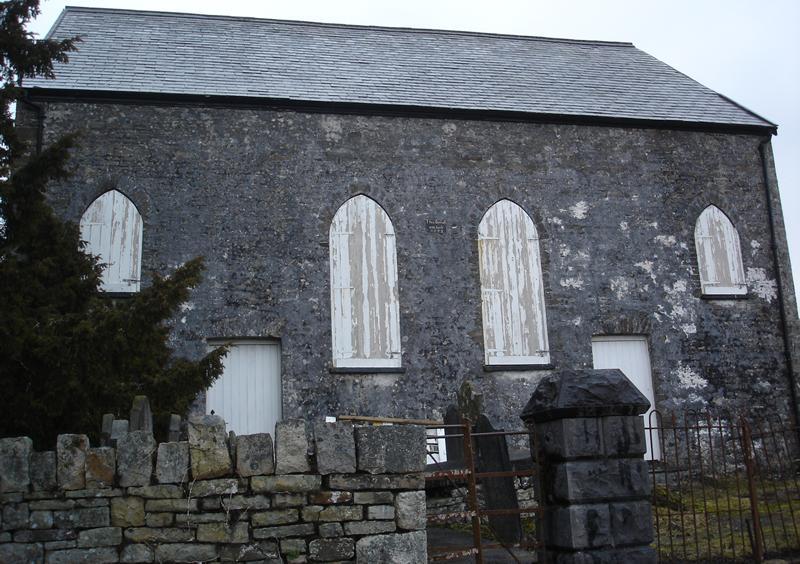 As the population of Cwmamman grew, chapels were built in more convenient locations. New Bethel Independent Chapel was built in 1875 at the border of Glanamman and Garnant at the side of the main highway and the Hên Bethel chapel building and cemetery is maintained by the deacons of the new chapel. Although weekly services are not held at Hên Bethel, a candlelit "Plygain" is held every Christmas morning at 6:00am.
A local lady named Orma Allen-Hughes wrote a poem about the Plygain.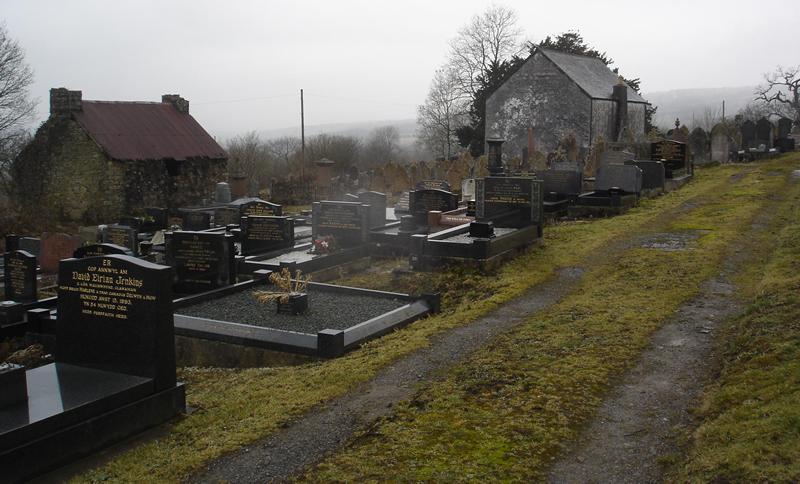 Hen Bethel from the North East February 2009.
The cemetery is also a place where a species of insect known commonly as glow worms have been found. In June or July, these creatures give off a tiny fluorescent green coloured light in order to attract a mate.
This page was constructed by Laura and Tabitha Michael. Sources include "Haner Canrif o Hanes Bryn Seion, Glanaman", by John Jenkyn Morgan.